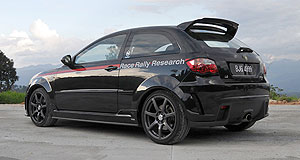 PROTON plans to turn up the heat in Australia by introducing a warmed-up version of its Preve sedan featuring mechanical, software and aerodynamic performance tweaks.
The Australian arm of the car-maker has revealed it is kicking the tyres over at Proton's Race Rally Research unit, otherwise known as R3The Preve is the newest model in the Proton line-up, and features a lacklustre 1.6-litre engine producing only 80kW of power and 150Nm of torque, with an emphasis on fuel economy over outright driveability.
Add-ons over the standard cars available to Proton's Australian arm include a more aerodynamic body kit, different wheels, cat-back exhaust system, lumpier cams, a rechipped engine control unit, performance spring set, and changes to the engine to help it cope with the higher performance output.
The modifications are expected to add about 10kW and 15Nm to the torque figures of the normally aspirated car, although the higher-specification Preve GXL that is soon to arrive in Australia features a turbocharged version of the engine producing 102kW and 205Nm – meaning the performance gains are potentially higher.
The extra length in the accelerator pedal will back up the company's "Tuned by Lotus" suspension system, acknowledging the car-maker's ownership of and collaboration with the sportscar brand.
Proton Australia general manager of sales and marketing, Billy Falconer, said the car-maker was more likely to bring finished cars to Australia rather than introduce the performance kits to buyers as a showroom accessory.
"(Modifying cars) was a big thing going back a few years, but our plan is to be able to offer those type of vehicles as production vehicles rather than having people put them on themselves," he said.
"That obviously means increasing our range for the future.
"Whether that's via a GTI or via Proton's R3 division … that's the side of the business we will be looking to bring it through."
He said the development of a "GTI-like" vehicle, potentially based on a more heavily turbocharged version of the 1.6-litre engine, would also help the brand.
Mr Falconer said the company had received feedback for years that its Lotus-tuned chassis – the upcoming Suprima S hatch will reintroduce the "Tuned by Lotus" badge – could handle much more than its low-powered engines could dish out.
"The engine probably needs a bit more, and that's something I believe Malaysia will address – it's something we need to discuss with them in regards to what their plans for the future are."
Mr Falconer said the reintroduction of a performance hero car, similar to what the GTI does for Volkswagen's Golf, would help rebuild buyer knowledge of the brand, which was something it was now lacking.
"Going back to when we launched the GTI in 1999, I believe those years that followed that were Proton's best sales years," Mr Falconer said.
"It was also our best years as a recognised brand in this country, so to say that we want to go back there, yeah, I would agree with that.
"But I think it will do us huge favours in street credibility something of a GTI replacement."
---