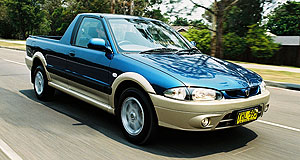 PROTON will consider launching a van into Australia's light commercial vehicle market as it looks to find a successful successor to its Jumbuck ute.
However, while plans for a van have been flagged, the car-maker has said it is yet to decide if a replacement for the Jumbuck would be a commercial viability.
The ute, which sold from $14,990 before it was dropped from Australian showrooms in 2010, was one of the biggest sellers for the car-maker in its prime.
"There is still a plan to work on a replacement for the Jumbuck," said Proton Cars Australia general manager of sales and marketing Billy Falconer "At the moment it is just working on the business plan to make it work," he said.
"Under the previous ownership (Proton was sold by the Malaysian government to the privately held, Malaysia-based DRB-HICOM earlier this year) things were done differently I guess, whereas under this ownership it is their money that they're investing, so they need to make a viable business plan.
"It's not just launching a car for the sake of launching a car.
"They've gone further than we've expected with the Jumbuck, but as I said it's about the business case stacking up again, but how quick they could turn that around into production I couldn't say." Mr Falconer said Proton had a niche all to itself with the Jumbuck.
"We didn't really have any competitors," he said. "I think there's still a market for that type of ute in Australia, that's a given, but at what volume – that's what we've got to get our head around," he said.
However, another commercial vehicle Mr Falconer is willing to entertain is a trade van based on the Exora people-mover.
He said it could potentially be viable to sell a stripped-out version of the seven-seater with steel panel inserts instead of windows to suit commercial clients.
Mr Falconer said while Proton was interested in spinning out into commercial vehicle sales, the company was keeping its plans "fairly close to its chest".
"When management comes out (here to Australia later this year) we will be able to focus a lot more on what's coming," he said.
---