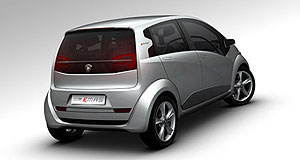 PROTON'S push for more market share in Australia will get a shot in the arm next year when the Malaysian car-maker launches an all-new light-hatch contender in the third quarter.
The new city-sized hatch will slot into the Malaysian car-maker's local line-up below the Preve sedan that arrived earlier this year and the just-launched Suprima S hatch to become the brand's new entry-level model.
The as-yet unnamed hatch will also fill a gap in Proton's line-up after the aging Persona and Gen 2 models were discontinued due to their lack of electronic stability control which became mandatory on passenger cars sold in every state and territory of Australia earlier this month.
Speaking at the launch of the Suprima S last week, Proton's head of international sales Dr Badrul was unable to disclose details about the forthcoming light-car, but confirmed it would be a five-door hatch and that it would go on sale next year.
The styling direction of the new model is unclear, but some reports have suggested it could follow design cues from Proton's futuristic Emas concept from the 2010 Geneva motor show.
It is also not known whether Proton will collaborate with Italdesign Giugiaro in styling the car, as it did with the Preve/Suprima S twins.
Something that is all but guaranteed is that the future light-car will carry a five-star ANCAP crash safety rating, with Proton introducing a minimum five-star safety policy across its range.
Proton's last attempt at a true light was the quirky Savvy that sold in middling numbers from 2006 before being discontinued in 2012.
Dr Badrul remained tight-lipped when pressed to detail Proton's wider future product plans, but he did confirm the Suprima S would get a beefier 2.0-litre turbocharged engine in the first quarter of 2015.
Proton executives gave little away about the new engine as it is still under development, but it will be more powerful than the 103kW/205Nm 1.6-litre turbocharged four-cylinder unit that currently powers the Suprima S. This would give Proton something of a hero car that would hark back to the much-loved Satria GTi hot-hatch that became a cult favourite when it sold in Australia between 1999 and 2004.
Before the hotter version arrives, Proton will launch the Suprima S R3, which essentially adds a sporty body kit, but offers no mechanical alterations.
As GoAuto has reported, the Malaysian brand will also add a turbocharger to its top-spec Preve GXR small sedan sometime in the New Year, matching the output of the Suprima S.
---