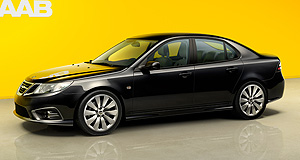 SAAB is officially back in business with the first examples of its re-born 9-3 rolling off the Trollhattan production line this week ahead of a Swedish launch next week and Chinese sales in the New Year.
The iconic Swedish brand – now owned by Chinese-Japanese conglomerate National Electric Vehicles Sweden (NEVS) – will initially produce the 9-3 sedan at the Stallbacka factory and follow it up next year with wagon (SportCombi) and convertible variants for sale in Sweden and China.
NEVS has released Swedish pricing for the 9-3, with the manual Aero kicking off from 279,000 kronor ($A47,491) while the automatic will retail for 289,000 kronor (A$49,189).
The 9-3 will go on sale in Sweden from Tuesday December 10 via the NEVS website.
The company said in a statement that the first run of vehicles will be "high-spec" 9-3 Aero sedans powered by a 164kW 2.0-litre turbo-petrol engine, with more detailed spec information and delivery conditions available when the customer starts the sale online.
A full electric version is slated for release in China in the second quarter of 2014 and NEVS part-owner, Qingdao, has ordered a pilot fleet of 200 EVs.
NEVS says it will work to build its customer base before expanding into other global markets where it sees "potential for growth and profitability".
Just 10 9-3s a week will be built at the production facility in Sweden, but NEVS says this is expected to ramp up to meet customer demand as it increases.
The re-born car-maker is offering a unique retail experience by offering customers the opportunity to collect their 9-3 from the Trollhattan plant, tour the factory and visit the Saab Car Museum.
Servicing and parts distribution is being managed by NEVS in partnership with Orio AB, formally Saab Automobile Parts AB.
NEVS president Mattias Bergman said despite the challenges in re-booting the brand, he believes the efforts of staff and partner businesses will pay off.
"It is truly a complex mission to start a car production process which has been still for two and a half years," he said. "It is very pleasing that we have embarked on a journey where we want to and will make a difference with our partners and customers.
"Our electric car will be launched next year, and already today we can offer Saab cars with continued high, proven performance and qualit."
NEVS currently partners with 400 parts suppliers to build the 9-3, while around 2400 companies were engaged through the suppliers.
Production of the 9-3 ceased in April 2011 as Saab faced bankruptcy under then owner, Dutch group Spyker.
NEVS announced more than a year ago that it would purchase the bankrupt entity and re-commence production of the 9-3 before a roll-out of the EV model shortly after.
A series of prototypes were produced in September this year to test the capabilities and iron out any kinks in the production line, prior to the official production run.
---