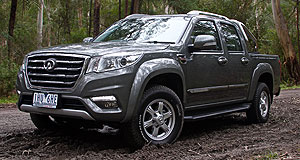 GREAT Wall will unveil an all-new dual-cab utility to better compete with the likes of the Toyota HiLux, Ford Ranger and Volkswagen Amarok by late 2019 or early 2020, with the local offshoot of Haval Motors Australia hoping for a full eight-speed-auto-equipped four-wheel-drive pick-up range.
The struggling Chinese brand – which was previously imported by Ateco Automotive between 2009 and 2015 – currently sells only the Steed 4×2 and 4×4 ute range, which will be heavily updated early next year.
However, with Great Wall under-performing this year with just 228 Steed sales after the first six months of trading, the company is pinning its local expansion hopes on a larger, all-new competitor.
"We will have a new Steed cab-chassis that will go on sale in the first quarter of 2018," Haval Motors Australia public relations and product planning manager Andrew Ellis told GoAuto at a media event in Darwin last week.
"It will come standard with an aluminium tray measuring 2.4 metres long by 1.8 metres wide, it will be a big tray that you can put two pallets in the back of.
"It will (continue to) be based on price, very competitively priced this is not a luxury machine. The Steed cab-chassis has traditionally done quite well in Australia and we have a lot of customers returning to our dealerships asking about the cab-chassis."
The Steed 4×2 petrol dual-cab has been advertised from $24,990 driveaway, down from a recommended retail price of $25,990 plus on-road costs. Both the 4×2 diesel and 4×4 diesel have likewise been offered with $1000 reductions (and on-road costs included) at $26,990 and $29,990 driveaway respectively.
However, Mr Ellis admitted that while the older-generation Steed delivered the length required to compete with mainstream Japanese and European utes, it lacked the width and height – and he confirmed that would be addressed with a new vehicle by the turn of the decade.
"The one we're really excited about from a local expansion point of view is an all-new ute sometime at the end of 2019 or the start of 2020," Mr Ellis said.
"It's an all-new platform, and we've given our wish list – we want three-tonne towing, we want all the safety features, we want a 4×4, we want an eight-speed auto, and so far nobody is saying 'no' to us.
"There has been a change in China where utes and diesel utes are now legal in city centres again, so what we're seeing in America is machines like F-Series, Silverados, are now hugely popular in China. So the opportunity is there."
Asked whether the vehicle will be Ford Ranger-sized and larger than the current Steed, Mr Ellis replied: "Yes, it's that bigger, all-purpose dual-cab ute."
He further hinted that it could be at the larger end of the segment, more in line with a Volkswagen Amarok that is larger than most rivals.
"Given what they're telling us, 'big' seems to be working in China because sales of the American imports are going really well," he said.
Great Wall snared an all-time high of 11,006 sales in 2012 before freefalling by 44.5 per cent the following year as brand – which sold the V-series ute (the Steed's predecessor) and X-series SUV – suffered through recall issues around the use of asbestos in vehicles.
---