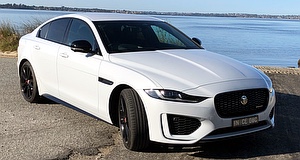 I had a cat once. So, I can speak from experience. Anyone who was employed by a cat will know that they are demanding and self-centred to the point where reliable schedules are lost in a fog. But, overwhelmingly, their lovable attributes, sense of poise and choreographed mannerisms are addictive. Much like the Jaguar.
Jaguars don't drive like other cars. There's an unhurried confidence in how they drive, a softness to its relationship with the bitumen, a comforting quietness of the cabin which juxtaposes with the subtle rush of performance. Lovable, in fact.
But they have an erratic history that swings from good to bad, through reliability issues to build quality and back, to some engineering design headaches of earlier cars that sent many mechanics to drink.
Believe me, I've heard it all before. Jags are unreliable and cost the earth to repair, apparently, lose value quicker than rivals and don't make the grade in new cabin technology.
Rubbish.
Sure, I have seen a Jaguar at the side of the road more than once but it's always an old one. Today, that rarely happens.
Take the latest Jaguar XE on its merits and it comes up very strong against other Euros including the BMW 3 Series, Mercedes-Benz C-Class, Volvo S60, and Audi A4, not to mention the Lexus IS and Genesis G70.
It oozes history as a carriage of kings and an exceptionally accomplished endurance racer and if that matters, then the shame of it is that in the 3 Series-sized XE, there's no hint of its glorified past and conversely, little hint of the brand's less glorious moments.
The XE's styling is neat and well-proportioned but anonymous and, in the wrong colour – the test car was a pale grey – it gets mistaken by most onlookers as an early Hyundai.
Yet inside it's clean and fresh and free from baubles and chrome that is used by some makers to dazzle prospective buyers into submission.
It's small-ish – if you want more room then opt for the XF – but equates to the BMW 3 Series, yet is attractive from the driver's seat and certainly has sufficient features to impress its passengers.
---