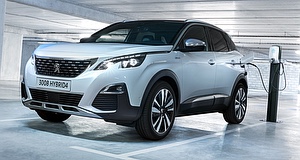 PEUGEOT has introduced plug-in hybrid (PHEV) versions of its medium 3008 SUV and large 508 Fastback sedan to its local portfolio, the duo the first electrified variants to be offered for sale in Australia by the French brand.
Available to test drive now at selected Peugeot dealerships, the 3008 and 508 PHEV are "the beginning of an evolution" for the brand which plans to introduce more hybridised and battery electric models in the near future.
The company said it plans to offer the limited test drives ahead of the models' official dealership debut early next year as it works to ensure an "appropriate level of supply" is available to "meet anticipated customer demand".
"Peugeot is delighted to offer exclusive pre-launch access to the 3008 GT Sport Plug-in Hybrid AWD and Peugeot 508 GT Fastback Plug-in Hybrid at select dealerships across Australia," Peugeot Australia general manager Kate Gillis said in a statement.
"Interested customers are invited to contact their local Peugeot dealership to discuss exclusive access to test drive opportunities prior to the official launch."
The Peugeot 3008 GT Sport Plug-in Hybrid AWD will be priced from $79,990 and introduces all-wheel drive to the model range alongside combined system power of 222kW. The 3008 PHEV combines Peugeot's 147kW PureTech engine with two electric motors, the front providing 81kW and the rear 83kW.
The petrol engine is mated to an e-EAT8 eight-speed automatic transmission with rear drive courtesy of Peugeot's proprietary e-RAD rear axle assembly.
Peugeot says the 3008 PHEV is assisted by a 13.2kWh battery and is capable of travelling up to 60km (WLTP) on all-electric power. Like many contemporaries it offers a e-SAVE function to reserve electric power for use at the driver's discretion.
"Globally, we know that Peugeot has made a commitment to have an electrified variant across the entire model line-up by 2025 and it is with great anticipation and excitement that we take our first steps in the Australian market with the introduction of the Peugeot 3008 GT Sport Plug-in Hybrid and Peugeot 508 GT Fastback Plug-in Hybrid," Ms Gillis added.
Priced from $76,990 the 508 GT Fastback Plug-in Hybrid combines a single 81kW electric motor with a 133kW PureTech engine (total system power of 165kW) to drive the front wheels via Peugeot's e-EAT eight-speed transmission.
The sedan offers the same e-SAVE mode as its SUV sibling and provides "more responsive acceleration" and a 55km all-electric range from its 11.8kWh battery.
Both PHEV Pugs include the brand's comprehensive suite of advanced safety technologies, configurable 12.3-inch head-up display instrument panel, 10.0-inch high-definition infotainment touchscreen, and FOCAL premium sound system.
The 3008 PHEV rolls on 19-inch Washington onyx-finish diamond cut alloy wheels and features a black grille, front and rear badging, PEUGEOT lettering, rear bumper garnish, and window surrounds. It is upholstered in full grain Nappa leather appointed trim with grey stitching.
The 508 PHEV meanwhile adds two-tone 18-inch diamond cut alloy wheels and Nappa mistral full grain leather upholstery with Aikinite double stitching on top of the already generous equipment list found in the GT variant.
"The introduction of our plug-in hybrid electric vehicles allows Peugeot to enter a new segment for the brand and reach a new audience of Australian consumers," Ms Gillis said.
"Peugeot's plug-in hybrid electric vehicles offer our customers versatility, allowing them to experience 100 per cent electric driving whilst maintaining the choice to utilise the traditional combustion engine for longer journeys."
Full specification of the 3008 GT Sport Plug-in Hybrid AWD and Peugeot 508 GT Fastback Plug-in Hybrid will be available at the local launch in Q1 of 2022.
---