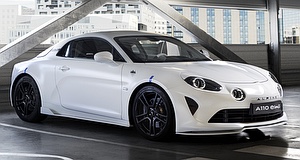 ALPINE has uncovered its A110 E-ternite (eternity) at the French Grand Prix this week, the all-electric model equipped with the same powertrain found in the Renault Megane E-Tech and offering 178kW and 300Nm.
Connected to a Getrag-sourced two-speed dual-clutch transmission and driving the rear wheels, the power unit draws energy from a 12-module/60kWh battery and can offer a 0-100km/h time of 4.5 seconds (0.3 seconds slower than the derivative model) and a top speed of 250km/h. The model is said to offer a driving range of 420km (WLTP).
With a kerb mass of 1378kg (+258kg) – some 392kg of it from the battery pack alone – the A110 E-ternite offers a front-to-rear weight distribution of 42:58 per cent, nearing that of its petrol-powered sibling (43:57). Firmer Ohlins-sourced suspension helps to support the weight of the A110 E-ternite.
Physically, the A110 E-ternite is differentiated by an open-style roof with a carbon-fibre cover and a bespoke Android-tablet based infotainment system with eight-speaker sound. Recovered materials, including flax cloth, give the model important environmental kudos.
Built in Dieppe, France, the A110 E-ternite is likely to released in small production numbers only in early 2025.
The model's unveiling coincides with Alpine's 60th anniversary celebrations and is one of two all-electric cars under development by the brand. The Renault-owned performance brand is collaborating with Lotus – itself part of China's Geely group – on the development of an all-electric sportscar based on its LEVA (lightweight electric vehicle architecture) framework.
LEVA will underpin a range of all-electric models offered by the 'British' marque and is said to be 37 per cent lighter than the chassis of the Emira V6. Lotus says the versatile, modular platform supports multiple configurations, wheelbase lengths, battery sizes, and layouts.
It also claims to now have the 'blueprint' for the next generation of electric sportscars, for future Lotus products, and for the Lotus Engineering consultancy group to commercialise.
The Project LEVA lightweight chassis – formed with funding from the British government as part of a collaboration with Sarginons Industries and London's Brunel University – will
underpin future Lotus-developed vehicles.
These include what Lotus says are a two-seat model with a wheelbase greater than 2,470mm, single 350kW motor and 66.4kWh battery pack; a larger two-seater with a wheelbase greater than 2,650mm, 650kW dual- motor driveline and 99.6kWh battery pack; and a 2+2-seater also with a wheelbase greater than 2,650mm but with the availability of both single and dual motors.
The three layouts feature a common, lightweight die-cast rear subframe with multiple interchangeable components allowing different battery configurations. A layout described as 'chest' has batteries stacked behind the rear seats while the 'slab' layout places the battery pack beneath the cabin floor.
LEVA's battery cells are cylindrical, high energy density units fitted in modules using cold cure, spot bonding and advanced welding techniques that Lotus says reduce the environmental impact of assembly.
---