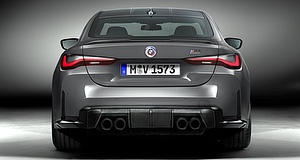 BMW's M Division has confirmed that a limited-edition M4 Edition 50 Jahre model will arrive in the Australian market in Q4 this year.
The M4 Edition 50 Jahre marks BMW M's 50th anniversary and incorporates several model-specific styling and equipment upgrades. Only 25 units are destined for local showrooms.
The news comes just days after BMW announced the imminent arrival of its 405kW M4 CSL, which is also slated for Australian delivery later this year. The M4 CSL, which is priced from $303,900 (plus on-road costs), will join the M4 Edition 50 Jahre in celebration of BMW M's golden anniversary and, suffice to say, will be the fastest road-legal M3/M4 ever.
Offered exclusively in Brands Hatch Grey metallic paintwork, the M4 Edition 50 Jahre is paired with offset 19- and 20-inch 826 M light alloy wheels finished in matte Gold Bronze – the same wheels that were offered on the BMW M5 CS last year.
Over and above the standard G82-series M4 Competition M xDrive, the anniversary special also includes an M Carbon body styling package, M Compound Brake package with calipers finished in high-gloss red, M Carbon bucket seats, and M Drivers Package that ups the model's top speed to 290km/h.
The model is further distinguished by 50 years of M emblems on the bonnet, bootlid and wheel centres, while 'Edition 50 Jahre BMW M' lettering decorates interior touchpoints, such as the door-sill covers, head restraints and centre console-mounted plaque.
The M4 Edition 50 Jahre will retail from $201,900 (plus on-road costs) – $30,400 more than the derivative on which it is based. BMW will also include its M Driving Experience Advance 2 course as part of the purchase price.
The limited-edition M4 Edition 50 Jahre features no further mechanical changes over the standard M4. It is powered by BMW M's 375kW and 650Nm twin-turbocharged 3.0-litre I6. BMW M says the model can accelerate from standstill to 100km/h in just 3.5 seconds.
BMW M (formerly BMW Motorsport) was established in 1972 to facilitate BMW's racing program, but evolved to create showroom models, such as later examples of the 3.0 CSL. The first official M model was the M1 in 1978, followed a year later by the M535i.
In more recent times, BMW M has produced fettled versions of almost every BMW model and introduced M Sport performance parts and accessories for standard variants.
BMW M also provides M packages for the S1000RR sports motorcycle with a limited-edition homologation special designated M1000RR now available from $57,990 plus on-road costs.
All M cars are developed and tuned at Germany's famed Nurburgring Nordschleife racing circuit.
The go-fast marque enjoys stiff competition locally and abroad with rivals including Alfa Romeo, Audi, Lexus, Jaguar Land Rover and Mercedes-Benz all offering similar sporting nameplates – Alfa Romeo Quadrifoglio, Audi RS, Lexus F, Jaguar Land Rover SVR and Mercedes-AMG products are often viewed as direct competitors to BMW M variants.
---