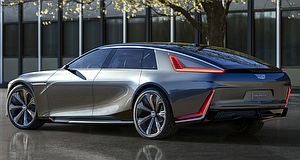 CADILLAC has pulled the silk sheet from its Celestiq show car, an all-electric design and engineering piece it says is a vision of innovation and purpose that previews a future flagship sedan.
Inspired by the brand's 120-year heritage, the Celestiq draws inspiration from V16-powered pre-war models and the handbuilt 1957 Eldorado Brougham.
There is even a Flying Goddess hood ornament from 1940s models etched into the Celestiq's front quarter-panels.
"Those vehicles represented the pinnacle of luxury in their respective eras, and helped make Cadillac the standard of the world," said Cadillac chief engineer, Tony Roma.
"The Celestiq show car – also a sedan, because the configuration offers the very best luxury experience – builds on that pedigree and captures the spirit of arrival they expressed."
Cadillac says designers drew further inspiration from "other iconic American designs" and "mid-century masterpieces", fusing such ideas with GM's Ultium-based all-wheel drive EV architecture to impart a "magnetic first impression".
The Celestiq features a long bonnet and raked roofline, and shares several styling cues with the Lyriq SUV, namely its grille and hockey-stick-shaped taillights.
Cadillac says the styling of the Celestiq will premiere on a production model before trickling down through the remainder of its line-up.
While Cadillac has yet to provide specification or performance details for its forthcoming luxury sedan, it has detailed materials and technology highlights likely to make it into the production model, which it says will be revealed "later this year".
Highlights include five high-definition interactive LED displays – including a 55.0-inch advanced LED screen that spans the entire dashboard – a smart glass roof with variable opacity, Ultra Cruise hands-free driving capabilities, digital window blinds, and more.
Cadillac says that although these technologies are previewed on the show car, they will make it into production, making the Celestiq "the most advanced vehicle ever from Cadillac".
Other interior touches – which form a nod to Cadillacs of the 1960s and 70s – include deep-pile carpet (made from eucalyptus fibres), a large-diameter steering wheel with metallic accents, and bright red leather upholstery.
The grand four-seat cabin features seating modelled after Eames designs from the 1950s and utilises a decorative wooden garnish.
A full-length centre control runs between the front and rear seats to an open cargo compartment lined with matching red leather and metal inlays.
Hand-finished brushed metal trim and wooden panels line each of the doors, the trims perforated to allow LED backlighting to shine through.
"The Celestiq show car is the purest expression of Cadillac," said Cadillac Advanced Design Centre manager, Magalie Debellis.
"It brings to life the most integrated expressions of design and innovation in the brand's history, coalescing in a defining statement a true Cadillac flagship."
GM is investing $US81 million to support the assembly of the Celestiq – in limited numbers – at its Global Technical Centre in Warren, Michigan.
The hand-built model, which will be made to order by a small team of craftspeople, will be the first Cadillac production vehicle to be built at the campus since its inauguration in May 1956.
The production version of the Cadillac Celestiq is expected to be available to order from 2025.
---