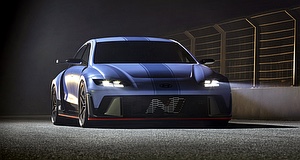 JUST one day after Hyundai revealed full details of its Tesla Model 3 rivalling Ioniq 6, the South Korean car-maker pulled the covers off its vision of a hard-charging performance car based on its battery-powered eco-hero.
It also rolled out a surprise retro-styled concept as a follow-on from the Grandeur and Pony electro-mods with the Hyundai N Vision 74, a 500kW/900Nm hydrogen fuel cell-powered coupe that pays homage to the original Pony and its designer Giorgetto Giugiaro.
Officially dubbed the RN22e, the Ioniq 6-based trackstar is not officially a preview of a forthcoming production car, but rather a "rolling laboratory" designed to test hardware for Hyundai's future performance EV products based on its electrified E-GMP architecture.
Reading between the lines, however – and observing Hyundai's strategy around its other performance models – the RN22e is an obvious precursor to an eventual Ioniq 6 N.
Will a production-spec Ioniq 6 N look like this? It seems possible – that ground-scraping front bumper might need to adopt a more driveway-friendly approach angle, but the bulk of the bolt-on enhancements like the ultra-wide quarter panels (the RN22e measures over two metres wide) and huge rear diffuser complement the standard Ioniq 6 bodywork quite well.
The gigantic rear wing may not make the cut, but the amount of standard sheetmetal that has been preserved hints at production-line readiness.
Another distinctive feature to the RN22e's exterior is a deep bonnet vent to extract air from the car's cooling package – rapid charge/discharge cycles during hard driving would certainly generate a lot of heat within the RN22e's 77.4kWh battery pack.
With the standard Ioniq 6 boasting an ultra-low 0.21 coefficient of drag to unlock incredibly low energy consumption figures, the extra girth and downforce-adding body mods would significantly impinge on those attributes if and when the Ioniq 6 gets the N treatment.
Hyundai has not published any efficiency numbers for the RN22e, nor has it published a zero-to-hundred claim either.
The company does however say that the combined output of the RN22e's front and rear electric motors comes in at 430kW and 740Nm, while top speed is "over 250km/h".
Kia's upcoming EV6 GT, also based on the E-GMP architecture, has the same outputs and a claimed 0-100km/h sprint time of 3.5 seconds. For context, the regular Ioniq 6 dual-motor generates a max of 239kW and 605Nm, with a 0-100km/h claim of 5.1 seconds.
Rather than Tesla-slaying straight line speed, Hyundai's engineers have prioritised handling.
A torque-vectoring capability for its rear axle (achieved through a twin-clutch connection between the motor and the driven wheels) helps offset the weight of an electric performance car by using motor torque to aid turn-in, rather than just relying on steering and suspension geometry to maximise cornering grip.
The torque split between the front and rear axles can also be varied, allowing rear-biased handling for maximum driver engagement, or all-wheel traction for maximum performance.
Braking is also a key area that Hyundai will experiment with. The RN22e sports a massive set of 400mm two-piece front brake rotors clamped by four-piston fixed calipers, providing plenty of mechanical stopping power.
However, the company says it will also use the platform to develop a performance-oriented regenerative braking system that can – like the torque-vectoring rear motor – be used to increase cornering prowess.
Emotional engagement is also a factor for the RN22e. Hyundai has equipped the rolling lab with what it terms "N Sound+" a synthetic sound generator that outputs to both the interior and exterior of the car, providing aural feedback about how fast the car is going – something normally missing from the EV experience.
Hyundai says the lessons learned from the RN22e will inform the designs of its future all-electric performance cars, the first of which is expected to be the Ioniq 5 N in 2023.
Will Hyundai's electron-burners have what it takes to step up to other high-output EVs from Porsche, Tesla and Audi? We will not have to wait long to find out.
---