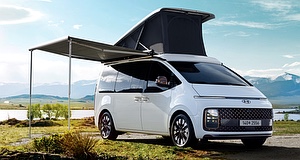 HYUNDAI has introduced a rival to the Mercedes-Benz V-Class Marco Polo and Volkswagen Transporter California in its Staria Lounge Camper unveiled last week.
The Staria-based model, which is made specifically for the South Korean market, is based on the flagship Lounge variant and available in four- and 11-seat configurations – with black or brown upholstery.
The pop-up roof camper features an inflatable double bed with mosquito net, curtains and living area equipped with a folding table and a small galley-style kitchenette with built-in pantry.
Its fit-out also includes a 70-litre water tank, 40-litre sullage rank, a 36-litre fridge, and a kitchen sink.
Outside, the Staria Lounge Camper includes a retractable awning with integrated LED light bar, sliding table, folding chairs, and an external power outlet.
The Staria Lounge Camper's pop-up roof is electronically actuated and illuminated by more LEDs. All the model's features are controlled via a 12.1-inch folding entertainment and control screen (dubbed Smart Control System) located over the kitchen bench.
At the rear of the van is the option for a shower head and additional power outlets that fit neatly into a panel located by the driver's side tail-light.
LED floor lighting is a neat and luxurious touch that gives the Staria Lounge Camper a proper factory-finished feel many converted models simply cannot match.
Powered by the same 2.2-litre R Series turbo-diesel engine found under the bonnet of Australian Staria variants, the Staria Lounge Camper outputs 130kW and 430Nm.
Front-drive and H-Trac all-wheel drive configurations are available, with both paired to an eight-speed automatic transmission.
The Hyundai Staria Lounge Camper 11 is priced from ₩49.5 million ($A54,000) and ₩68.6 million ($A75,000) for the luxxed-up Camper 4. Paint colours include Abyss Black and Creamy White.
Hyundai Motor Company Australia (HMCA) currently has no plans to introduce the model locally but will continue to monitor the model's availability – and the increasing popularity of factory-converted campervans – as the market expands.
Locally, the Hyundai Staria Load continues to prove a sales success with year-to-date sales of 688 units placing it third in the Vans/CC 2.5t – 3.5t segment behind the Toyota HiAce (2596 units) and LDV G10 and G10+ (880 units).
The 11-strong light commercial van segment is also contended by the Ford Transit Custom (493 unit sales), Mitsubishi Express (387), Volkswagen Transporter (290), Renault Trafic (213), Mercedes-Benz Vito (212), now-defunct Hyundai iLoad (78), Peugeot Expert (63)and LDV V80 (51).
Meanwhile, the passenger-focused Staria ranks second in the People Movers under $60K segment with 515 unit sales, behind the strong-selling Kia Carnival with 1479 year-to-date sales.
The eight-strong segment is rounded out by the Honda Odyssey (365 sold), LDV G10 Wagon (195), Volkswagen Multivan (55), Volkswagen Caddy (28), now-defunct Hyundai iMax (18) and Volkswagen Caravelle (11).
Were it to be sold locally, the Hyundai Staria Lounge Camper would slot into the People Mover over $60K segment where it would vie against such rivals as the Mercedes-Benz Marco Polo, Valente and V-Class, the Toyota Granvia, and the Volkswagen California.
---