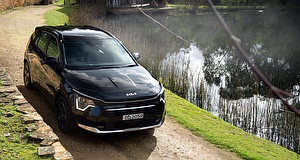 IN THE film world, sequels and remakes often fail to capture the magic of the original. In the case of the Kia Niro, there wasn't much magic to begin with.
Arriving in Australia at the end of its lifecycle, the DE Niro (yes, you read that correctly, gangster-movie fans) was only present for just over a year before it was superseded by the subject of this review, the SG2 Niro. The DE's stay in our country was blissfully short, then… Thanks to an outdated interior that didn't compare favourably with those of more modern Kias, a homely and hard-to-love exterior, and a suspension that was a bad fit for Aussie roads, the old Niro was short on appeal.
It was not a great start for what was Kia's first stab at electrification. Available as a conventional hybrid, a plug-in hybrid or a fully-electric vehicle, the first-gen Niro lacked the charisma of other contemporary eco-warriors.
So, the SG2 is 'take two' for the Niro, and after a first sampling it seems that the critics have been heard. Does it deserve the rotten tomato treatment? Hardly.
Just look at it. The same jacked-up hatchback proportions remain (Kia insists the Niro is a small SUV – in reality, it's more of a crossover), but dimensional growth in width, length and wheelbase see it occupy a slightly larger footprint.
Meanwhile, exterior styling has gone from soft-edged and unadventurous to crisp and modern, and the interior has followed suit with a dashboard and console that mimic those of its bigger battery-powered sibling, the EV6.
For up-spec GT-Line variants, contrast-colour C-pillars can be had, but to be honest, the Kia still looks handsome without them. A better reason to plump for the GT-Line is for its fatter feature set versus the comparatively austere Niro S base version.
All Niro variants boast an all-electronic instrument panel and infotainment screen, both set within the same slightly curved bezel that stretches across two-thirds of the dashboard's width. However, in the S hybrid, the two screens you get are a very basic 4.2-inch instrument panel and an 8-ich infotainment screen, with simplified graphics, no built-in satellite navigation and limited functionality beyond basic Bluetooth integration, a digital radio tuner, plus Android Auto and Apple Carplay.
Step up into the GT-Line, and those screens are replaced by a pair of 10.25-inch displays that not only fill out more of that big bezel, they incorporate a fully-fledged navigation system, clearer and more aesthetically-pleasing graphics, and Kia's first onboard telematics/remote connectivity system, Kia Connect.
The GT-Line also scores other nice-to-haves, such as a heated steering wheel, heated and ventilated front seats, faux-leather upholstery, customisable ambient cabin lighting, a 10-inch head-up display, an electrically operated tailgate and a power-adjustable driver's seat. The EV version further offers power adjustment for the front passenger seat and the ability to power household devices via a power outlet under the back seats and an adaptor that plugs into the EV's charge port.
That's not to say the S variant hasn't gained anything. An electro-chromatic rear view mirror, two USB-C charge ports for rear occupants, and a bevy of standard safety upgrades (a centre airbag, rear cross-traffic AEB, blind-spot assist, high beam assist and forward AEB improvements) haven been added, as has an interior household power outlet for the electric Niro S. However, but the GT-Line's feature set is better aligned with the Niro's position within the Kia showroom as a technology leader.
The base S hybrid, with its bare urethane steering wheel, cloth upholstery, tiny screens and old-school T-bar shifter (the rest get a rotary dial), feels taxi-spec by comparison.
Ergonomics are good though, no matter the spec. The driving position feels more hatchback than SUV, but the slightly elevated height of the seat base does at least place your eyeline slightly above that of your typical small car.
The capacitive ventilation/infotainment controls under the centre air vents look great and work well, with physical knobs for temperature and volume, and a wireless charge pad in the centre console on GT-Line variants is a welcome feature.
The glovebox is on the small side, but the upshot is a generous centre console box with cupholders that retract out of the way should you want to plonk a purse, wallet, or other smallish items there instead.
The front seats are comfortable, but rear occupants are the biggest beneficiaries of the SG2's arrival. Rear legroom is massive, and with the large rear windows, plentiful headroom and the high rear seat base giving those in the back a good view to the front and sides, the new Niro is comfortable enough for four adults at a time.
The load bay is respectably sized; it measures 425 litres in the hybrid or 475 litres in the EV – though the fold-up cargo blind does feel like an afterthought (and a cheap one at that). EVs also receive a 20L storage compartment under the bonnet, though this is realistically best used to store its emergency charge cable, not your groceries.
---