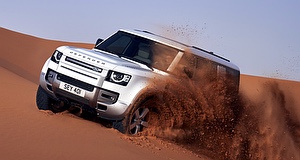 LAND ROVER will expand its Defender range at the end of this month when it reveals the flagship Defender 130, an eight-seat body style for Land Rover's rugged off-roader.
The Defender family currently constitutes three-door short-wheelbase Defender 90 – in passenger and commercial Hard Top configurations – plus the five-door long-wheelbase Defender 110.
Both have a five-seat capacity (six if the Defender's unorthodox centre-front jumpseat option is selected), with the 110 seating up to seven if ticking the third-row option box.
The Defender 130 will offer a more spacious eight-seat configuration when it breaks cover on May 31, which is also its official on-sale date.
Details are so far scant but patent imagery seen by GoAuto indicates the 130 will sit on the same wheelbase as its 110 brother (breaking with Defender tradition by decoupling its nomenclature from its wheelbase in inches), with a significant stretch in the rear overhang to add more cabin volume.
A 2:3:3 seat layout is expected, with the third row not only anticipated to be much wider than the 110's optional fold-out rear seats (which are constrained by their position directly between the rear wheel wells), but also better at accommodating adults in general.
With the third row stowed, luggage capacity should also greatly exceed the 916-litre volume offered by the Defender 110 in its five-seat configuration, though with the 130's third row expected to sit further rearward than the 110's, it is not clear whether it will significantly improve on the 110's 231-litre all-seats-up cargo capacity.
It is also not clear whether the Defender 130 will be offered with the same powertrain options that are available in the 90 and 110.
The Defender's engine line-up is diverse, including a 221kW 'P300' 2.0-litre turbo petrol inline four and 146kW 'D200' 2.0-litre turbo diesel (not offered in Australia) at the bottom end, three-litre turbo petrol and turbo diesel inline sixes in the middle (P400 and D250/D300 respectively), and a supercharged 5.0-litre V8 for the Defender 110 P525.
With the Defender 130 to be physically bigger and heavier than the 110, both the V8 and inline sixes would be expected to be offered. Whether the four-cylinder options are deemed sufficient may come down to market preference.
As for its price premium over the established 110, this will be confirmed next month after the Defender 130 is fully revealed.
However, with the 110 P525 currently capping off the range at $220,530 before on-road costs, the arrival of a longer, larger equivalent could finally see the humble Defender's price window finally overlap with that of that other upright European off-roader – the Mercedes-Benz G-Class.
---