New models – Land Rover – Range Rover Evoque
New P300e variant joins range; Defender 110 PHEV here this year
21 Jan 2022
LAND ROVER Australia has expanded its local PHEV line-up with the recent introduction of a P300e derivative of the Range Rover Evoque. The firm says it will bring the full global line-up of Range Rover PHEVs, plus the Defender 110 PHEV, to the local market this year.
The Evoque P300e PHEV joins the existing Range Rover Sport P400e PHEV and will soon be followed by the all-new Range Rover PHEV (available for customer orders from the end of January), Range Rover Velar PHEV (from Q2), and Defender 110 PHEV (from Q3).
The all-wheel-drive newcomer utilises a 147kW 1.5-litre three-cylinder Ingenium petrol engine (mated with an eight-speed automatic transmission), which works in combination with an 80kW electric rear-axle-drive motor that is propelled by a 15kWh lithium-ion battery.
The P300e is said to emit 43g/km of CO2 and have an all-electric range (from full charge) of 62km. Land Rover claims fuel economy of 2.0L/100km and a 6.4-second 0-100km/h time.
What's more, the Evoque PHEV can achieve 0-80 per cent charge in 30 minutes (by using 32kW DC public charging) or 84 minutes (with a 7kW AC wall box).
The P300e can operate in three modes. In Hybrid mode (default), the operating strategy for the petrol engine and electric motor is dynamically adapted to driving conditions and the high voltage battery's charge level, plus a predictive energy optimisation function can integrate route and GPS data to maximise efficiency and comfort to destinations set on the satnav.
EV (electric vehicle) mode, in turn, enables the Evoque P300e PHEV to run solely on the electric motor using the energy stored in the battery, while SAVE mode prioritises the combustion engine as its main power source and optimises regenerative battery charging, whereby up to 80 per cent charge of the lithium-ion battery can be achieved in 90 minutes.
"We are delighted to introduce an expanded Land Rover PHEV offering," Jaguar Land Rover Australia managing director Scott Maynard said.
"Australian drivers are increasingly considering electrified powertrains – our expanded PHEV line-up offers compelling alternatives to traditional ICE engines, providing customers with more choice."
2022 Range Rover Evoque pricing*:
| | | |
| --- | --- | --- |
| R-Dynamic SE P250 | $78,052 | |
| R-Dynamic HSE P250 | $82,699 | |
| R-Dynamic HSE PHEV | $102,001 | (new model) |
*Pricing excludes on-road costs.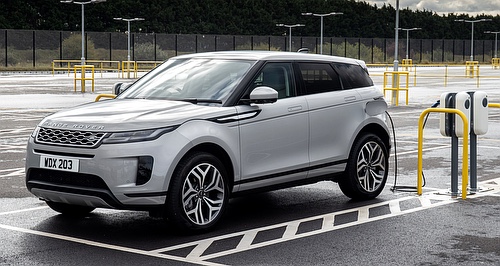 Read more
All new models
Range Rover Evoque pricing
SD4 177kW HSE

SD4 177kW HSE Dynamic

SD4 177kW SE

SD4 177kW SE Dynamic

Si4 177kW HSE Dynamic

Si4 177kW SE

Si4 177kW SE Dynamic

Si4 213kW HSE Dynamic

Td4 110kW Pure

Td4 110kW SE

Td4 110kW SE Dynamic

Td4 132Kw HSE

Td4 132Kw HSE Dynamic

Td4 132Kw Landmark

Td4 132kW SE

Td4 132kW SE Dynamic
Motor industry news
GoAuto can help you buy a new Range Rover Evoque
Customer Terms and Conditions – New Car Lead enquires
Agreement
This is an agreement between GoAutoMedia Pty Limited ACN 094 732 457 of PO Box 18, Beach Road, Sandringham, VIC, 3191 ("we/us"), the owner and operator of the GoAuto.com.au website ("the website") and the person wanting GoAuto.com.au to provide them with a lead for the purchase of a new car ("you").
By completing a New Car Lead Enquiry, you agree to the terms and conditions and disclaimers and acknowledge the policies set out below.
Terms and Conditions
In order for us to effect a lead you must you must complete a New Car Lead Enquiry ("Enquiry").
We will call you as soon as possible after you complete the Enquiry and certainly no later than the next business day. When we call, we will discuss with you your new car requirements.
You consent to our passing on the Enquiry and your requirements to an appropriate authorised motor car dealer as a lead.
We will contact you again in approximately eight days following your initial enquiry to check on the progress of the Enquiry.
While we will provide the dealer with the Enquiry and details of your new car requirements, we take no responsibility for what happens after passing on that material as a lead.
You acknowledge that we are a new car information service providing new car editorial information, pictures and prices to our customers as a guide only. Any new car prices published on the website are the manufacturers' recommended retail prices and do not include delivery charges and on-road costs. Any authorized motor car dealer to which we pass on your Enquiry as a lead will provide you with full details of the price at which the vehicle will be sold to you.
You acknowledge that we do not sell motor vehicles. Any sale of a new car to you by a dealer after we have passed on your Enquiry to that dealer as a lead, is a sale by that dealer not by us.
Privacy Policy– New Car Lead Enquires
We take privacy very seriously. We understand that you will only complete an Enquiry if you can trust us to protect your personal information and use it appropriately. Our policy is to ensure that the personal information collected when you make an Enquiry is only used for the purposes of connecting you with an authorised motor car dealer.
We do not on-sell information collected from you or any other customer.
From time to time, we may email you with information or promotions that may be relevant for car buyers. You will continue to receive communications from us unless you tell us that you do not want to receive any advertising or promotional information in the future by unsubscribing from these communications.
Click to share
Land Rover models
All new models
Range Rover Evoque pricing
SD4 177kW HSE

SD4 177kW HSE Dynamic

SD4 177kW SE

SD4 177kW SE Dynamic

Si4 177kW HSE Dynamic

Si4 177kW SE

Si4 177kW SE Dynamic

Si4 213kW HSE Dynamic

Td4 110kW Pure

Td4 110kW SE

Td4 110kW SE Dynamic

Td4 132Kw HSE

Td4 132Kw HSE Dynamic

Td4 132Kw Landmark

Td4 132kW SE

Td4 132kW SE Dynamic
Motor industry news
---