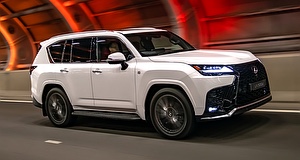 Overview
After 14 long years, there's now an all-new Lexus LX. That's a long time between drinks – more than double the lifespan of your typical SUV – but body-on-frame 4WDs do tend to run a tad longer than their unibody brethren after all.
However, with attitudes towards SUVs and buyer tastes having dramatically evolved over the past decade and a half, the previous LX was definitely looking more than a little long in the tooth by the time it shuffled into retirement.
Hence the wholesale changes brought in with the new-generation LX. It's not just different in the mechanical sense, courtesy of brand-new underpinnings borrowed from the 300-series Toyota LandCruiser, but it differs markedly in the product offering as well with the greatly expanded range structure and diversity of choice that's now being presented to the customer.
Previously the main choice was whether you wanted a petrol V8 or a turbo diesel V8 (and even then, the latter was only available since the 2018 model year), but now Lexus customers can select from a total of nine different specification levels.
Diesel (LX500d) and petrol (LX600) options are still there, with the former being shared with the LandCruiser but the latter being all-new to the platform, however both are downsized to six cylinders apiece and augmented by twin turbo technology.
The 10-speed automatic and offroad hardware are the same as that used by the LandCruiser, though the LX rides on 20-inch alloys at a minimum (the majority of the range rolls on 22-inch wheels) and it features its own unique suspension tune that is designed to preference on-road driving rather than bush-bashing.
Four specification grades are offered – base, F Sport, Sports Luxury and Ultra Luxury – with the base LX500d ($148,800) and LX600 ($152,300) models also available with a $5500 optional enhancement pack that adds 22-inch alloys, a glass moonroof and hands-free tailgate.
As for seating, the number of seats is inversely proportional to price, with the base grade only available in a seven-seat config, the mid-spec F Sport and Sports Luxury being strictly five-seaters, and the flagship Ultra Luxury offering just four individual – but highly luxurious – seating positions.
That last one, the Ultra Luxury, is a curious thing. Lexus has never played in that upper-echelon SUV space before, and four-seat high-luxury SUVs have traditionally been the preserve of brands like Bentley, Range Rover, Rolls Royce and Maybach. Intended to be owned by very-high net worth individuals and driven by chauffeurs, not owners, the LX600 Ultra Luxury (it's not available as a diesel) is the most affordable SUV of its type despite its $210,800 asking price.
Astonishingly, it's also accounted for around ten per cent of LX uptake so far, indicating Lexus Australia's product planners either have their finger on the pulse of consumers, or they made an adept roll of the dice on the Ultra Luxury.
The F Sport ($171,800 in diesel form, $175,300 for petrol) is another gamble, being a melding of on-road performance virtues with a platform that's designed with off-roading in mind. With its own unique suspension tune as well as a traction-enhancing Torsen rear differential and thicker side bolsters for the front seats (not to mention more aggressive F Sport-specific body plastics and 22-inch alloy designs), the F Sport seems like an odd mix of ingredients.
Nevertheless, it too has proved popular, snaring 25 per cent of the order bank – though that may be more a function of its generous standard equipment list that brings ventilated front and rear seats, heated second-row seats, a centre console fridge, a fingerprint reader for the starter button, soft-closing doors, a digital rear-view mirror and the option of an eye-catching red leather interior.
The Sports Luxury occupies the midpoint of the price spectrum and is arguably the sweet spot. With premium leather, upmarket 'Takanoha' cabin trim, front and rear ventilated/heated seats, a heated steering wheel, fridge, power-folding second-row seats, soft-close doors, dual rear-seat entertainment screens and a hands-free tailgate, it's not wanting for kit.
It's also the most affordable model to offer a full 110-litre fuel capacity when in LX500d diesel trim, as the seven-seat diesel base model is only able to tote an 80-litre tank. At $165,800 for the LX500d Sports Luxury and $169,300 for the LX600 Sports Luxury, it's this spec which seems to offer the best balance of price and features.
---