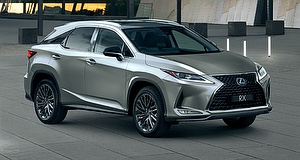 LEXUS has introduced two Crafted Edition variants to its RX large SUV line-up; the pair offers a suite of additional features, as well a complimentary upgrade to the Japanese premium marque's Encore Platinum Owner Benefits program.
Based on the five-seat RX300 Luxury and RX350 Luxury respectively, the Crafted Edition variants are differentiated by dark garnishing on their inner grilles, bumpers, wing-mirror caps, and 20-inch alloy wheels with F Sport centre caps.
Both Crafted Edition variants are also equipped with head-up display, courtesy lighting, leather-accented upholstery (in two-tone Black with White Ash), in addition to black open-pore walnut-look ornamentation across the centre console and door cards, as well as on the steering wheel.
Additionally, the RX350 is fitted with a sunroof, while the RX300 Crafted Edition receives front heated and ventilated seats, and an easy-access driver's seat with return and memory functions.
The additional features join standard inclusions such as LED headlights, 10-way power adjustable front seats, a leather-wrapped steering wheel, 12.3-inch infotainment array, wireless smartphone charging pad, and Lexus' suite of Safety Sense+ active safety and driver assistance technologies.
Finally, with three years access to the Lexus Encore Platinum program, RX Crafted Edition buyers will receive access to a Lexus loan car four times (for up to eight days at a time) via Qantas Valet or selected Lexus dealerships; complimentary parking at participating Westfield shopping centres nationwide or the Chadstone shopping centre in Melbourne (up to eight times). They will also be afforded opportunities to attend luxurious event experiences such as dinners, golf- and track days.
The RX300 and RX350 Crafted Edition are available in a choice of 10 exterior colours including Sonic Chrome, Sonic Iridium, Glacial Ecru, Khaki Metal, Sonic Quartz, Titanium, Onyx, Graphite Black, Vermillion and Deep Blue.
"A great ownership experience for luxury-car buyers is of utmost importance, and these new RX Crafted Edition variants unlock amazing experiences for customers with a three-year subscription to Lexus Encore Platinum," said Lexus Australia chief executive John Pappas.
"In addition, owners will be drawn to the bold styling elements and highly valued features that are hallmarks of the RX Crafted Edition."
All Lexus passenger vehicles are backed by a five-year/unlimited-kilometre warranty. The Lexus RX300 and RX350 Crafted Edition are available now.
2022 Lexus RX pricing*:
300 Luxury (a) $73,013
300 Crafted Edition (a) $77,075 (new model)
300 F Sport (a) $88,013
300 Sports Luxury (a) $94,713
350 Luxury AWD (a) $83,013
350L Luxury AWD (a) $86,513
350 Crafted Edition AWD (a) $86,485 (new model)
350 F Sport AWD (a) $95,513
350 Sports Luxury AWD (a) $101,713
350L Sports Luxury AWD (a) $103,713
450h Luxury AWD (a) $91,760
450hL Luxury AWD (a) $95,260
450h F Sport AWD (a) $104,260
450h Sports Luxury AWD (a) $110,460
450hL Sports Luxury AWD (a) $112,640
*Pricing excludes on-road costs.
---