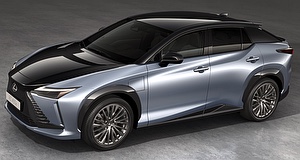 LEXUS has introduced its RZ450e, which is the Japanese premium brand's first battery-electric model to be built on a dedicated BEV platform… and a vehicle Lexus says symbolises its transition to becoming a BEV-centred brand.
Progressing learnings from Toyota Motor Corporation's many years of hybrid-vehicle development, the electrification technologies in the RZ450e include high-capacity lithium-ion batteries, silicon carbide inverter technology, and the incorporation of what Lexus says are other "low-loss technologies" to deliver an estimated single-charge driving range of 400km.
Built on the highly rigid, yet lightweight, Lexus/Toyota e-TNGA platform, the RZ450e is claimed to offer optimal weight distribution – and improved cabin packaging – via the "ideal placement of the batteries and motors".
Lexus is yet to provide the output figures of its dual-motor RZ450e, but says the model's battery technology offers a world-class capacity retention rate of "at least 90 per cent after 10 years" thanks, in part, to a built-in timer function which avoids over-charging.
The RZ450e measures 4805mm in length, 1895mm in width, 1635mm in height and rides on a 2850mm wheelbase and 20-inch alloy wheels. The SUV has a MacPherson strut suspension up front and a trailing arm double-wishbone arrangement at the rear.
Damping is managed by frequency-reactive dampers, which alter the damping force on the extension stroke in response to read surface frequency input.
The RZ450e is steered by a yoke-style "wheel" and steer-by-wire technology. Along with Lexus' new Direct4 all-wheel drive-force distribution. The arrangement aims to create "vehicle control that is faithful to the driver's every intention", Lexus claims.
The Direct4 system varies the drive-force ratio front-to-rear between 60:40 and 40:60 during straight-line acceleration for reduced pitching movements, and between 50:50 and 75:25 when cornering for "nimble response and excellent steering feel". When exiting a corner, the system shuffles drive between 50:50 and 20:80 to ensure "ample traction".
The driveline is backed by the latest Lexus Safety System + technologies, including a new driver-assist system that can bring the vehicle to a stop and notify emergency services if the driver is otherwise impaired. It also allows the vehicle to be parked remotely via a connected smartphone.
Stylistically, Lexus says the RZ450x draws much of its identity from the newly released NX and LX SUV models, while simultaneously offering proportions "born from dynamic driving". The RZ450e is optimised for aerodynamic efficiency and features a new take on the trademark Lexus spindle grille; the BEV spindle body is said the signal the "seamless acceleration and dynamic performance specific to battery electric vehicles".
The low nose and smoothly tapered passenger compartment taper upward towards the rear to deliver an increase in rear-seat passenger headroom, while the roof spoiler and ducktail rear-end profile contribute to reduced drag and increased downforce.
Inside, the RZ450e evolves Lexus' Tazuna design philosophy with quality craftsmanship and driver-oriented functionality. Lexus says the controls – including a shift-by-wire transmission knob – are intuitive to use, while the extensive adoption of bio-based materials, sound deadening materials and ample rear-seat accommodation (1000mm of rear-seat legroom) provide generous levels of passenger comfort.
The doors are controlled via an electronic e-latch system while radiant heaters (rather than warmed air) are used to raise cabin temperatures. The RZ450e is available optionally with a panoramic sunroof, which Lexus says possesses heat shielding, thermal insulation and UV protection properties, as well as a dimming function which "instantly blocks light according to the needs of the occupants".
Lexus says the RZ450e is part of its Lexus Electrified Vision that will see an expanding portfolio of hybrid, plug-in hybrid and battery electric models offered to "exceed the needs and expectations of a more diverse set of luxury buyers".
The Japanese marque aims to offer a full line-up of battery electric models across all vehicle categories by 2030, and a 100 per cent battery-electric range by 2035.
---