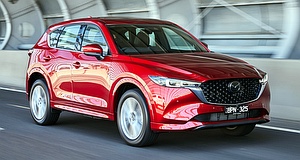 JUST days after confirming it would soon launch its new rear- and all-wheel-drive "premium" CX-60 Down Under, Mazda Australia has introduced its revised CX-5 range. Aren't the Japanese brand's products destined to compete for the same customers?
After all, the CX-5 and CX-60, which will both compete in the Medium SUV (under $60k segment), will face a similar challenge in competing for customer attention as the CX-8 does with the CX-9, and importantly, the CX-3 with the CX-30. Yet, despite the apparent challenges, Mazda Australia managing director Vinesh Bhindi says there is room for the increasing number of new SUVs due to arrive in local showrooms over the next three years.
Speaking to GoAuto at the launch of the updated CX-5 this week, Mr Bhindi said that despite being similar in size and offering similar characteristics, models such as the CX-5 and CX-60 can happily coexist within the brand's portfolio – and remain profitable.
"We will be launching the first ever Mazda CX-60 before the end of this year, and this (model) will compete in the Medium SUV segment, which remains the dominant market segment in Australia, behind utes," said Mr Bhindi.
"We see strong potential in this segment, and as an offering alongside CX-5 – and as we've seen with CX-3 and CX-30, and CX-8 and CX-9 – there is appetite for choice, and room for more models, without totally cannibalising our own product sales."
Mr Bhindi addressed concerns that Mazda's SUV line-up was becoming too complex by saying that its double-digit range would offer something more than its single-digit line-up, providing customers with even greater choice, while also providing a point of difference segment rivals are unable to match without the creation of a secondary sub-brand.
"The CX-60 will be a very different model. It's our next big step, our fourth new-generation model and the first of our large, rear-wheel-drive platform SUVs," he said.
"It's not about Mazda lurching towards the premium market to battle it out with the premium brands. Mazda is doing its own thing, again, as we've always done, with the customer being the ultimate yardstick for our success and guide for our strategic direction.
"The way we plan to position the CX-60 is for it to sit above the CX-5, and while there could be an overlap (in price), if you think about the way we position the CX-3 and CX-30, then it's a similar concept."
When asked whether the introduction of double-digit models (including the CX-70, CX-80 and CX-90) would spell the end of existing models, particularly the long-serving CX-5, Mr Bhindi was clear: Mazda Australia will sell every SUV variant it can get its hands on.
He said the market is cognoscente of the differences between Mazda SUV ranges and is enthusiastic about the choice available, and that he did not believe that the Hiroshima-based brand had a strategy in place to do away with any of the brand's existing single-digit model ranges in an effort to offer only higher-yield premium products.
"The CX-5 is successful. It does good numbers for us. I'm not saying that we will or won't have a replacement, but if Mazda Corporation continues to offer CX-5, we'll take it. It is here to stay for the foreseeable future," he said.
"There won't be two separate standards, or two distinct brands. They will both sit under the Mazda umbrella and will both wear the Mazda badge.
"Again, when you look at CX-3 and CX-30 they each offer a different proposition for buyers that need something different in either size, technology, or price. There is a market to suit all those points, and we have the products for that."
Mr Bhindi said Mazda Australia would continue to provide training to its sales and technical staff to ensure customers understand the variance between its single- and double-digit model ranges – and between models where price, size and style lines are beginning to blur.
Confusingly, the CX-30 sits between the CX-3 and CX-5 in Mazda Australia's current Mazda SUV portfolio and in a similar position to the all-electric MX-30.
Mazda does not offer the CX-4 or CX-50 in Australia, but the brand's local line-up will feature a widely expanded SUV range within the next three years with a line-up that, in order of size, will include the CX-3, CX-30, CX-5, CX-60, CX-70, CX-8, CX-80, CX-9 and CX-90.
"Customers come into our dealerships, and our brand, based on different things that are important to them. Not everybody is the same. I'm certainly not getting any feedback from our dealers that suggests 'the line-up is too sophisticated or too complex'," said Mr Bhindi.
"There is a lot of investment in learning and development of not just our salespeople, but also the technical experts that we have at the dealerships."
Despite recognising that single-digit mainstream and double-digit premium SUV models can coexist within the Mazda Australia portfolio, Mr Bhindi said there was currently no plan to extend a similar program across the brand's passenger and sports car model lines.
Mazda has already said it will not offer a rear-wheel-drive Mazda 6 (because the popularity of SUVs has sidelined the model's development), but importantly, it is not likely to offer premium variants of its passenger-car models to entice buyers who want the same technology and premium feel offered by Mazda's double-digit SUV variants.
"At this point, we've got no knowledge of the next versions of those nameplates or what Mazda plans for their future. Right here and now, Mazda Corporation has spoken only of SUVs, especially the CX-60, 70, 80 and 90, but also the 50 for the US," reiterated Mr Bhindi.
"But what they're also talking about is drivetrains and technologies, including five hybrids, five plug-in hybrids and three EVs by 2025, and beyond then even more EV architecture. So, that's where the focus is."
---