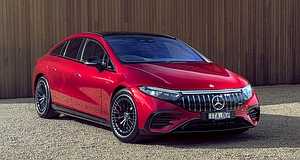 MERCEDES-AMG's first-ever all-electric production model – the EQS 53 4Matic+ – has finally arrived in Australia, with the first deliveries commencing around the country.
The move heralds a new era for the celebrated Affalterbach-based division of the Three-pointed Star as it enters the all-electric race with a savagely powerful archetype – suffice to say, it packs more than enough performance to take the fight to Porsche's popular Taycan.
Its price tag (from $328,400, plus on-road costs) makes the AMG an ultra-exclusive offering, and specifying extra options, such as the AMG Dynamic Plus package ($7,690), Energising Comfort package ($9,290) and ceramic composite brakes ($9,990), will bump that up further.
Mercedes-Benz Cars Australia says the first customer deliveries commenced last week. The model represents "a lot of car for the money", which is to be expected – given its premium, with high levels of luxury, advanced safety systems, and scintillating AMG performance.
Powering the EQS 53 are two electric motors, one at each axle, fed by a powerful 400V lithium-ion battery with a 107.8kWh capacity.
The Benz's electric drivetrain produces a total output of 484kW and a tyre-torturing 950Nm of torque, but if you fork out for the Dynamic Plus package outputs jump to 560kW/1020Nm.
A fully variable 4Matic+ all-wheel-drive system apportions torque between the front and rear wheels dynamically to ensure that the gargantuan twist is transmitted to terra firma optimally.
In standard trim, the EQS 53 catapults from zero to 100km/h in 3.8 seconds and on to a top speed of 220km/h and, if buyers tick the Dynamic Plus box at the dealer, it will shave another 0.6 seconds off the 0-100km/h sprint and let the car run all the way to 250km/h.
Its claimed range is 587km – more than any Porsche Taycan variant – an achievement Mercedes-AMG attributes, in part, to optimised aerodynamics (a drag coefficient of 0.23).
As for recharging, EQS 53 owners can charge at home or at public charging stations with up to 11kW from AC sources or 22kW via an optional AC charging system upgrade ($2,490).
Although the EQS 53 has no hand-assembled ICE under the bonnet with which to produce an evocative soundtrack, it uses speakers, a bass actuator and a sound generator to create a "special sound experience" with two options: Authentic and Performance. The soundtrack, described as being "powerfully sonorous", is generated both inside and outside the car.
"Customers can look forward to a dynamic, emotional driving experience. We ensure this with AMG-specific solutions, particularly (in terms of) the drive system, suspension, brakes and, above all, sound," Mercedes-AMG's chief technical officer, Jochen Hermann, said.
Mercedes-AMG is sending a strong message with the release of the EQS 53, by giving fans of AMG-branded performance Benzes a taste of all-electric grunt as the brand prepares to release performance-focused plug-in hybrids options for existing models.
"The AMG EQS 53 4Matic+ is the first all-electric ambassador in the performance segment, made in Affalterbach," Mercedes-AMG's chairman of the board of management, Philipp Schiemer, said.
"It is tailor-made for car enthusiasts who are looking for a combination of innovative electric mobility in a luxurious ambience, coupled with sportiness and agile driving dynamics.
"In addition, the EQS 53 is further proof that Mercedes-Benz is consistently driving electrification forward with all its brands. Further all-electric AMG models will follow in the not-too-distant future, also on the AMG.EA platform that we developed entirely in-house."
---