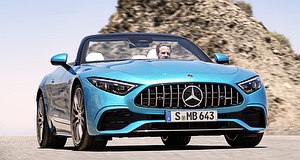 MERCEDES-AMG has unveiled a '43' version of its SL roadster. The new entry-level variant is powered by a 2.0-litre four-cylinder turbo-petrol engine with a Formula 1-inspired electrically driven turbocharger, which, 'Benz says, is a world-first for a series-production vehicle.
The 43 suffix usually denotes that a turbocharged 3.0-litre V6 petrol is wedged under the bonnet of a Mercedes-AMG model, but not so in the new, most affordable version of the Affalterbach-based brand's roadster, which is due Down Under in the last quarter of 2022.
The SL43's 2.0-litre four-cylinder engine itself is a known quantity – it's the same award-winning M139 unit that propels the Mercedes-AMG A45 and CLA45 variants, but in this case, it is mounted longitudinally (as opposed to transversely) and powers the roadster's rear wheels (not all wheels) and produces 280kW and 480Nm, rather than 310kW and 500Nm.
Moreover, the SL43 is equipped with an electric exhaust-gas turbocharger, which, 'Benz says, "guarantees particularly spontaneous throttle response across the entire rev range".
The technology, which is derived from that used on Mercedes-AMG F1 cars, sees a 40mm-thick electric motor integrated directly on the turbocharger shaft between the turbine wheel on the exhaust side and the compressor wheel on the intake side.
The electronically controlled motor drives the turbocharger shaft, which spins up to 170,000rpm, directly and accelerates the compressor wheel before the exhaust gases start to drive the 'turbo conventionally.
Mercedes-AMG claims this setup "significantly improves immediate response from idle speed" and "maintains boost pressure when the driver has taken their foot off the accelerator pedal". The motor is operated via the 48V electrical system that also feeds the belt-driven starter-generator (RSG), which can provide additional short-term boost of 10kW.
The SL43, which is fitted with a nine-speed AMG Speedshift multi-clutch transmission, is said to accelerate from zero to 100kph in 4.9 seconds and achieve a top speed of 275km/h, while offering combined fuel consumption of 9.4–8.9 litres per 100 km and CO2 emissions of 214–201 grams per kilometre.
"The new Mercedes-AMG SL 43 is now the very first series-produced vehicle with an electric exhaust gas turbocharger. With this technology, the SL also has an outstanding performance range in its entry-level version.
"This means that our seemingly smallest SL combines the typical AMG Driving Performance with luxury and comfort at the absolute top level. What's more, with this innovative engine we are undoubtedly also appealing to a wider clientele", said the chairman of the board of management of Mercedes‑AMG, Philipp Schiemer.
The entry-level version of the R232-generation SL can be differentiated from its V8-powered siblings by variant-specific aprons, as well as round instead of angular double tailpipe trim. Nineteen-inch light-alloy wheels are fitted as standard, but there are 20- or 21-inch options.
The interior features a 12.3-inch digital instrument cluster and the latest MBUX (Mercedes-Benz User Experience) infotainments system, replete with extensive AMG-specific content (in five display styles) and exclusive "AMG Performance" or "AMG TRACK PACE" menu options.
The SL43 is equipped with luxury seats trimmed in a combination of Artico man-made leather and fabric with high-gloss black trim elements, but AMG sports- and AMG Performance seats (trimmed in leather, Nappa leather or a Nappa-microfibre combination) can be specified.
As standard, the SL43 is equipped with a newly developed AMG Ride Control steel suspension and a -high-performance composite brake system, while the latest generation of AMG adaptive adjustable damping and active rear-axle steering (HAL) are optional.
Mercedes-Benz Australia will reveal more detailed specs and pricing closer to the Mercedes-AMG SL43's local introduction towards the end of the year.
---