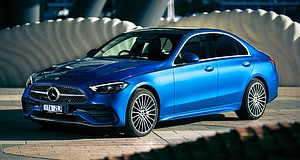 WOULD you believe that when the first-gen C-Class succeeded the W201 compact sedan (known globally as the 190E, but sold as the 180E in Aus) as the entry-level Mercedes-Benz in 1993, the car designed to democratise the Three-pointed Star would soon become the middle child in the brand's line-up?
The launch of the A- and B-Class hatchbacks at the turn of the Millennium (they'd go on to spawn "four-door coupe" and "crossover" variants), eroded the relevance of Benz's medium sedan and, as time wound on, the C lost further ground due to the popularity of SUVs.
Mercedes-Benz Cars Australia has sold more than 60,000 units of the C-Class, but now that it is in its fifth iteration, the medium sedan seems an anachronism of sorts; it's one of three models in Mercedes-Benz's passenger-car line-up to have survived from the early Nineties, it's largely an evolution of its predecessor (slightly roomier, more technologically advanced and styled to resemble its state-of-the-art S-Class sibling… but the same could be said of previous C-Classes) and it's expected to be final new model to roll out of Sindelfingen without a pure battery-electric version in the range – all W206-gen variants will be powered by hybridised four-cylinder engines.
Having arrived in Australia earlier this year (its local release was delayed by COVID-19 related supply issues), the new-gen C-Class is ostensibly one of the last of its kind – an ICE-powered medium sedan.
Initially available in C200 and C300 mild-hybrid, petrol-fed guises with standard AMG Line trim (inside and out) and a $78,900 starting price, the new C-Class looks every bit a micronized S-Class, which is all good and well, but is the W206 little more than a tribute act to keep acolytes coming back to the brand's dealerships (while they can still afford a Benz), or does it showcase the best, most time-honoured attributes of a brand that's looking to go even further upmarket?
It needs to make a big entrance – and it does. Apart from a metallic paint finish ($2234), the C200 test unit supplied to GoAuto was specified with a Sport package ($1307), which added 19-inch AMG bi-colour multi-spoke alloy wheels (18s are standard), a repair kit (with electric pump) and privacy glass, as well as a Vision package ($3154), which adds memory and heating functions to the front seats, a head-up display, MBUX augmented reality for the onboard navigation, traffic sign assist and a panoramic sliding sunroof and, finally, a $1615 Burmester 3D audio system.
Including luxury car tax of $733, but excluding on-road costs, the C200 test unit had a sticker price of a $88,093 and, for that premium, the 'Benz duly offers substantial kerb presence; it's typically understated (the AMG Line accoutrements are subtle), but suitably sophisticated, with the LED headlamps (with headlamp assist and adaptive high-beam assist) being a highlight.
With a length of 4793mm and a width of 1820mm, the W206 C-Class is notably larger than its predecessor, which benefits interior space – especially for rear occupants, who are afforded 35mm more knee-, 13mm more head- and 15mm more elbow room.
However, the sedan's sheet metal feels tightly wrapped, because the model is dead simple to place on the road; even though the default driver's seat position is comparatively low by old-school Benz standards, the C200's extremities are easy to judge in congested city traffic, which is where it will spend most of its life.
When performing low-speed manoeuvres, a 360-degree camera view and active parking assist are certainly handy and when you're trundling in traffic, driving assistance systems such as Active Distance Assist Distronic cruise control, Attention Assist driver drowsiness monitoring, speed-limit assist and lane tracking, including active lane-keeping assist and blind-spot assist, are a boon.
---