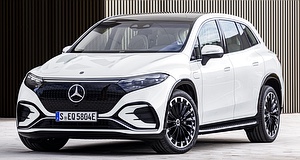 MERCEDES-BENZ has revealed extensive details of its biggest and most expensive battery-electric SUV model yet – the EQS SUV made its official debut this week ahead of its arrival in local showrooms early next year.
Essentially a battery-electric version of the GLS, the EQS SUV rides on the same EVA underpinnings as Mercedes' EQE and EQS sedans, plus it features similar "one bow" styling to its smaller siblings.
It is available with several powertrain options, all of which draw power from the same 108kWh battery pack, and an astounding array of technology, including the German firm's new Hyperscreen full-width infotainment and driver-info display.
While Mercedes-Benz Cars Australia has yet to confirm which variants will appear in local showrooms, the European range commences with the 265kW/568Nm rear-wheel-drive EQS450+, which can travel up to 660km on a single charge.
The entry-grade EQS SUV is topped by the 265kW/800Nm all-wheel-drive EQS450 4Matic, with up to 613km of driving range, and the 400kW/858Nm all-wheel drive EQS580 4Matic flagship, which also offers up to 613km of driving range.
According to earlier reports by GoAuto, a Maybach version is to be offered within the next two years (see links below).
All variants of the EQS SUV offer 200kW DC fast-charging capability with a quoted battery-recharge time (from fully depleted to 80 per cent) of just 31 minutes – and the ability to add up to 250km worth of charge in under 15 minutes. AC home charging is available with a complete charge said to take approximately 10 hours.
All variants offer four drive modes – Eco, Comfort, Sport and Individual – with 4Matic versions adding an Offroad mode, which activates hill-descent control and reconfigures the vehicle's suspension, throttle, traction assistance and throttle parameters.
Compared with the GLS, the EQS SUV is slightly smaller at 5125mm in length (-94mm), 1959mm in width (-71mm) and 1718mm in height (-105mm). It rides on a 3210mm wheelbase, which means the EQS SUV is 75mm longer between the axles than the GLS.
The turning circle is listed at 11.9 metres for conventional two-wheel steer variants; the optional all-wheel steer system shaves that figure to an impressive 11.0m. The EQS SUV may be parked automatically from either inside the cabin, or externally via a smartphone app.
The standard adaptive air suspension is capable of lifting the body by 25mm at speeds up to 80km/h, or lowering it by 15mm (from its standard height) at speeds over 110km/h. The model is available with alloy wheels ranging in diameter from 20 to 22 inches.
Mercedes-Benz will offer the EQS SUV in five- or seven-seat configurations with cargo space varying between formats. Five seat models offer between 645 and 800 litres of luggage capacity to window height, thanks to a sliding second row seat, with maximum utility space of up to 2100 litres. Seven-seat versions offer 195 litres behind the third row, between 565 and 800 litres behind the second row, and 2020 litres all told.
Seating includes power adjustment – including four-position lumbar support – memory recall, and heating as standard for the front row with ventilation available at extra cost. The rear seats may also be optioned with heating as part of an optional package.
The EQS SUV is fitted as standard with a 12.3-inch instrument panel and 12.8-inch infotainment array (that supports wireless Apple CarPlay and Android Auto), but the Hyperscreen, which features a bigger (17.7-inch) central display and 12.3-inch front passenger display array is optional, as are dual 11.6-inch screens for 2nd-row occupants.
"Hey Mercedes" voice assistant is included as part of the MBUX, as is the programming of up to seven driver profiles, each of which is made up of operators' face, fingerprint and voice recognition data. The EQS SUV is further offered with a 15-speaker Burmester 3D premium sound system, two-, four-or five-zone climate control with HEPA filter, and even a range of over-the-air add-ons that include computer games, trailer assistance technology, a dashcam, various lighting animations, and even a lap timer.
A long list of driver-assistance and safety-assistance technologies are included as standard with Level 3 autonomous driving capabilities possible at freeway speeds.
Mercedes-Benz Cars Australia says the EQS SUV will arrive in local showrooms in the first half of 2023, but has yet to confirm which variants will arrive – and at what price.
In the UK, the model range begins from £110,000 (A$193,175) and in Germany from €106000 ($A154,475). As a reference, the local GLS range is priced from $154,150 (plus on-road costs).
---