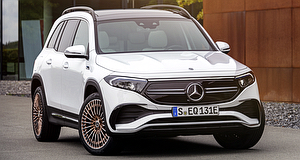 WITH a commitment to offer only electrically-powered vehicles by the close of this decade – and at least one EV in every segment it competes in by the end of 2022 – Mercedes-Benz has been upfront about its desire to transition to full electrification on an ambitious timeline.
Central to this plan is a product pipeline stuffed full of battery-powered vehicles. While its next generation EV-specific platforms are not due until 2025 – at which point all development on combustion-engined Mercedes product will cease – the EV rollout that began with the EQC and EQA will continue with three new battery-electrics arriving in Australia next year.
Debuting at the Munich motor show this week, those three models – the EQB, EQE and AMG EQS 53 – will bring Mercedes-Benz Australia's EV bodycount to five, putting it in a leadership position in the premium market and giving it a showroom diversity advantage over Tesla.
Alongside these three incoming EVs, Mercedes also gave a teasing glimpse at what the future might hold, with a battery-toting concept version of the hardcore G-Class off-roader sharing the stage with the gigantic Mercedes-Maybach concept EQS.
Benz's EQ product preview comes at a good time, with the company's existing EQ products, the EQA and EQC, already getting off to a respectable start in local showrooms.
"We're basically selling every EQA we can get our hands on," Mercedes-Benz Australia spokesperson Ryan Lewis said to GoAuto
"EQC has also been selling well, certainly relative to its competitors. We've had only moderate supply, whereas over the next little while we've got better volumes of EQC coming through, so we're looking forward to having that here."
"Generally speaking, the customers are showing themselves to be supporters of the product and ready to engage with EVs – particularly with EQA."
Those same customers are about to gain a lot more freedom of choice over the next twelve months.
Here's what's coming:
Mercedes-Benz EQB
Due to arrive in Australia in the second half of 2022, the GLB will span the size gap between the recently-launched EQA compact SUV, and the EQC which spearheaded Mercedes-Benz's transition to electrification.
Measuring 4.64 metres long, 1.8 3metres wide and 1.66 metres tall, the EQB is a close match size-wise for its combustion-engined cousin, the GLB-Class, and like the GLB also offers three rows of seats with seven-person capacity.
Overseas, the EQB will launch with two powertrain options – the EQB 300 4Matic and EQB 350 4Matic – with a front-wheel drive derivative and long-range version planned. Peak outputs range from 168kW and 390Nm for the EQB 300, to 215kW and 520Nm for the EQB 350, with the former sprinting to 100km/h in 8.0 seconds and the latter achieving the same feat in a more sprightly 6.2 seconds.
Despite their differences in straight line performance, both EQB variants carry the same 66.5kWh lithium-ion battery pack and share a 419km maximum range. On an 11kW AC charger the battery can be fully charged in five hours and 45 minutes, while a 400V DC fast charger can take the battery from 10 per cent to 80 per cent full in just 32 minutes.
In Australia, the arrival of the EQB could be a significant milestone for Benz's EV aspirations. With the GLB ranked as Mercedes-Benz's top-selling single model in August, having an all-electric analogue could offer its customers the same popular form factor in an emissions-free flavour.
Mercedes-AMG EQS 53 4Matic+
Mercedes-Benz Australia was all set to lead the launch of its all-electric luxury limousine, the EQS, around the end of this year, but due to semiconductor shortages that timing has been pushed back to sometime in the first half of 2022. Happily, though, the first variant to be offered here will be the flagship Mercedes-AMG EQS 53 4Matic+, which also has the distinction of being the first AMG model to get the EQ treatment.
It's still too early to talk about expected pricing, but with up to 560kW and 1020Nm from its dual motor AWD mechanicals, the EQS 53 confidently outguns the 450kW/900Nm outputs of the petrol-engined Mercedes-AMG S63.
Performance is brisk. The 0-100km/h run is over in 3.4 seconds when there's at least 80 per cent of charge in the battery, and top speed is limited to 250km/h when optioned with the AMG Dynamic Plus package.
This mumbo is provided by two AMG-specific electric motors, with new windings, the ability to run more current, liquid cooling, and new inverters allowing them to spin faster and generate more power than the motors used by non-AMG EQ models.
The AMG EQS 53's brakes have also been uprated, with the powertrain able to recuperate up to 300kW via regenerative braking. The driver can vary the strength of the regen via switches on the steering wheel, allowing significant stopping power without even requiring the mechanical brakes.
Other features include air suspension, rear-wheel steering, torque-vectoring all-wheel drive and a sound augmentation system that AMG says provides a "more emotional soundscape" to fill in all of that EV silence.
Even the battery has been tuned for performance, with AMG giving the 400V 107.8kWh lithium-ion battery the ability to flow the current required to enable its prodigious performance, while still delivering a claimed range of up to 580km. Not bad for a car that weighs 2655kg empty.
Mercedes-Benz EQE
Also due in the second half of next year, the EQE will, as its name suggests, be the battery-powered companion to the E-Class, and the second model to use the EVA2 electric vehicle architecture after the EQS.
However, while the E-Class might be its closest stablemate in terms of model positioning, its proportions and general style ape the CLS. Short overhangs at front and rear, frameless door glass and a single-arch silhouette mark the EQE as more of a fastback four-door than a big executive sedan.
Internally, it offers more cabin length, shoulder room and a higher seating position than the current E-Class, along with a useful boot capacity of 430 litres. There's also the colossal MBUX hyperscreen option, which replaces most of the EQE's dashboard furniture with a seamless three-screen display that brings some concept car wow factor into a showroom offering.
So far, only one model has been confirmed – the EQE 350 in rear-wheel drive, 215kW form. Able to travel up to 660km on a single charge of its 90kWh battery, the EQE 350 will be joined by another model in the near term with dual-motor all-wheel drive. Further down the line, Mercedes promises performance variants with around 500kW of power.
Mercedes-Maybach Concept EQS
Effectively a first glimpse of the upcoming EQS SUV, the Mercedes-Maybach Concept EQS is also the first electrified model to wear the coveted Maybach name.
Looking close to production-ready, the Maybach Concept EQS' curvaceous bodywork and two-tone paint scheme does a good job of masking its physical bulk. Sharing its architecture with the EQS and EQE, it should share its footprint with the former while adding a significant amount of vertical growth.
And while that translates into more airspace inside the cabin, there is no pragmatic three-row layout inside. Rather, the Maybach concept cossets just four occupants, with only two individual rear seats in the back bisected by a floating console that contains, among other things, a place to perch champagne flutes.
To visualize its more prosaic (but still luxurious) non-Maybach equivalent, simply subtract some of the more outlandish features – like that aircraft-style steering wheel – and perhaps add another seat or or three.
Mercedes-Benz Concept EQG
With Hummer, Ford and Tesla all in the process of wheeling out their own all-electric off-roaders, Mercedes is hinting at similar aspirations with its Concept EQG.
Clearly built around the conventional G-Class frame and body, the EQG replaces the combustion engine with four electric motors – one for each wheel. Up front is an independent suspension, while the rear suspension retains a solid axle design to preserve the G's off-road capabilities.
Being a concept, Mercedes is steering clear of specific power, torque or range numbers for the EQG, however it does mention improvements to centre of gravity thanks to the weight of the battery pack, and says each motor is also equipped with a low-range gearset for extreme off-roading.
---