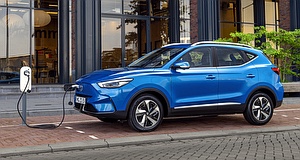 MG MOTOR Australia has officially sold out the pre-launch offer associated with its updated ZS EV SUV.
Five hundred examples of the model were offered in conjunction with a $500 discount on MG's ChargeHub wall-charging station and the allotment was snapped up in just weeks – well before the model's official on-sale date of July 2022.
Under the stipulations of the recent pre-sale offer, the first 500 customers who placed a deposit on an MG ZS EV were eligible for a discount on a MG ChargeHub.
MG Motor Australia said the offer was in-line with its ongoing goal to not only provide consumers with value-packed vehicles, but drive sustainable change through EV infrastructure as well.
"More and more people want to switch over to EVs, and MG Motor Australia is helping people to make that lap with the evolution of the ZS EV which has already been strongly embraced by customers," said MG Motor Australia and New Zealand CEO, Peter Ciao.
Mr Ciao says the ZS EV remains popular with buyers, with interest in the two-variant range increasing despite a recent $5000 increase in the price of the top-spec Essence variant.
MG Motor Australia points out that, over an eight-year period, its electric-powered ZS is more affordable to own and operate than its petrol-powered sibling.
With respective retail pricing of $46,990 (less NSW's EV incentive of $4450) and $30,990 for the Excite-spec ZS EV and ZS T – and based on an annual driving distance of 13,500km – the duo costs the same price to register and insure ($2497), but the EV variant is cheaper to charge ($377 over 12 months) versus filling its ICE equivalent with petrol ($2065).
Over five years, the ZS EV will cost $63,301 (including the initial purchase price) against $62,735 for the ZS T Excite. But over eight years the figures fall in the EV's favour, at $76,639 against $83,488 for the petrol-powered model.
Mr Ciao says the availability of two trim grades means ZS EV buyers have more choice than before. The all-electric SUV also offers more features, including a larger 10.1-inch infotainment touchscreen, drive-mode selector, as well as an iSmart smartphone app for remote functionality, such as monitoring the charge status, preconditioning the cabin's climate control, locating the vehicle when parked and so forth.
Now available from $46,990 drive-away nationwide, the ZS EV is powered by a 130kW/280Nm (+25kW/-73Nm) electric motor fed by a 50.3kWh lithium iron phosphate battery. The optimal driving range is quoted at 320km.
The exterior of the ZS EV has been redesigned with a "stylish and modern" aesthetic. The grille-less front fascia is dominated by 21-module LED self-dimming headlights, while the rear-end receives nine-module LED taillights. Seventeen-inch alloy wheels are standard.
The newly introduced ZS EV Excite (from $46,990 drive-away) features a 360-degree camera system, MG Pilot technology, plus a 10.1-inch floating touchscreen infotainment system with Apple CarPlay and Android Auto compatibility and satellite navigation.
The top-shelf ZS EV Essence (from $49,990 drive-away), meanwhile, additionally features blind-spot monitoring, rear cross-traffic alert, a panoramic sunroof, six-speaker audio system, power folding wing mirrors, leather-look seats, a wireless device charging pad, front seat heaters, and a six-way electrically adjustable driver's seat.
Both ZS EV variants include MG Pilot driver assistance technology with intelligent high-beam control, AEB, adaptive cruise control, emergency lane keeping, speed assistance and more.
Like all MG Motor passenger models, the ZS EV is backed by a seven-year/unlimited-kilometre warranty, which includes the high-voltage battery.
Meanwhile, MG's ChargeHub home or office wall charger is available in 7kW single-phase and 11kW three-phase configurations and is priced from $1990 and $2090 respectively (excluding installation costs).
The weather-resistant Charge Hub unit may be wall- or pedestal mounted and is Open Charge Point Protocol (OCPP) compliant to ensure that it is compatible with any Type 2 electric vehicle on the market in Australia.
MG says the low-profile design of its ChargeHub unit means it is both compact and low impact. The unit incorporates RGB LED surrounds, a discreet Type 2 plug cradle, and a five-metre-long cable. It is also 4G-, ethernet- and Wi-Fi compatible, and is supplied with two RFID cards to ensure charging security and trackability.
---