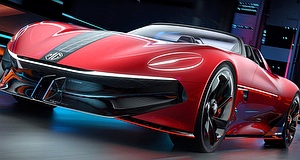 MORE details on MG's Cyberster sports car are surfacing. As a mooted 2024 arrival date nears, the latest information confirms the MX-5 rival will have a steering yoke instead of a 'wheel and scissor doors instead of traditional front- or rear-hinged apertures.
Cyberster is an all-electric take on the drop-top, two-door, two-seat sports car with MG tipped to pitch it on price against rival Mazda MX-5 at circa $40,000. Whether a yoke-based steering system (similar to an aircraft) complies with Australian Design Rules or not is yet to be determined.
To facilitate yoke steering, that essentially pivots through possibly 200 degrees of rotation, variable ratio steering would be needed to allow the car to turn sharply for parking and tight manoeuvres at full lock.
As is the norm on many EVs, "paddle shifters" would function to increase or decrease regenerative braking force.
The existence of Cyberster was confirmed in April last year but MG owner SAIC Motor's information drip feed continues with a China-specific web video appearance this week…
Sports cars are what made the MG name famous, but the brand hasn't had one in its line-up since 2016 when the MG-F ceased production.
Previously owned by the now defunct MG Rover Group, the iconic brand has been in Chinese hands since 2006.
It's a given Cyberster will be pure electric and will probably utilise running gear including the powertrain based on forthcoming MG4 EV. EV powertrains available to MG for Cyberster right now could see the sleek little sports car with a zero-to-100km/h time of less than 3.0 seconds… supercar territory.
But that's unlikely given packaging and weight limits MG would want to observe in such a car.
No specific details of the battery-electric powertrain have been confirmed but a single electric traction engine and smaller battery with a range of about 400km seem most likely. For the car to achieve supercar performance would demand twin electric motors and a large 90kWh battery, at least.
More likely is what MG recently unveiled under the MG4 hatchback in China with an EV powertrain claimed to be capable of a 0-100km/h sprint in 4.0 seconds. It will be offered with rear-wheel drive on a dedicated pure electric platform which would provide a perfect base for Cyberster, geared to suit a sports car application with an eye on weight.
Using a traditional roadster configuration with rear wheel drive, information obtained by GoAuto suggests Cyberster will be manufactured from the get-go in right- and left-hand drive. The final layout will be determined by battery size, shape and installation which will also dictate range and outright performance.
MG is keeping a lid on much of its specification, but enough information has surfaced to get a pretty good picture of what is already a keenly anticipated car.
In styling terms, the MG video shows a nicely styled two-seater with bold design details… mostly. The shape is said to draw inspiration from the classic MGB, flaunting a bold and futuristic look with elegant curves, deep body sculpting and the squat dimensions usually associated with a dedicated sports car.
Styling details include so called Magic Eye headlights that open when turned on, a Laser Belt line of LEDs along the side and a squared-off tail. The rear arrow shaped taillights may, however, be considered by some to be a jarring note but styling is subjective.
The scissor doors are a standout feature putting diminutive Cyberster right up with supercar brands like Lamborghini and other bespoke car-makers.
Inside follows through with the techy exterior styling boasting a completely digital dash behind the low-level steering yoke with an interactive gaming-style cockpit and 5G connectivity.
As MG is celebrating its centenary in 2024, it stands to reason the company would want to mark the occasion with a big event such as Cyberster's launch. At this point, a Cyberster EV would have no direct rivals apart from ICE-powered Mazda MX-5 and BMW Z4 with Mazda said to be toying with a hybrid version of their sports car.
MG was taken aback by public response to Cyberster when the teaser prototype was shown in April last year particularly when 5000 potential buyers put down deposits on the car. This forced MG to fast track the car bringing forward its production to sometime in 2024.
---