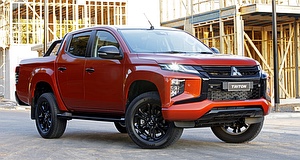 MITSUBISHI may be set to offer its next-generation Triton with the option of petrol-electric plug-in hybrid power.
According to a report published by Japanese outlet Spyder7 recently, the Mitsubishi Triton PHEV is expected to arrive in late 2023 or early 2024 coinciding with the arrival of the new sixth-generation Triton and its twin-under-the-skin Nissan Navara.
The publication indicates that the model will offer the same petrol-electric driveline as featured across the new Outlander PHEV range.
The next-generation Triton is reportedly being co-developed with Nissan as part of the Renault-Nissan-Mitsubishi Alliance and is understood to be available with diesel and petrol-electric drivelines from launch.
But according to Mitsubishi Motors Australian Limited (MMAL) CEO Shaun Westcott, the confirmation of such a model hinges on a number of important factors, not least of which is access to battery and semiconductor supplies.
"We have a PHEV system that can be easily transformed into a hybrid or EV application and can also go into a truck platform. However, with respect to towing and payload carrying performance, the current system is not strong enough. So, we have to develop a stronger PHEV system," Mr Westcott told GoAuto News.
"We are currently developing such a PHEV system – one that can be used in more powerful applications – but as to when such a system will be ready very much depends on our situation. The difficulty right now is what's happening with global supply chains and economics.
"This is a challenge we must take into consideration, and that applies to PHEVs as much as it does to any other model. There are realism constraints that we have here."
"Firstly, the capacity to manufacture batteries and the demand for semiconductors… a PHEV or a BEV has 300 to 400 per cent more density of semiconductors than an IC engine. The world already has constrained semiconductor supplies, so accessing an even greater supply at this point in time is challenging."
"The second aspect to consider here is that the minerals we need to manufacture batteries is in very high demand. It is going to take time for the automotive industry to ramp up to meet the level of demand that is being placed upon it."
"Even before we start building EVs, the whole supply chain needs to be fundamentally different, and that capacity needs to be found – not to mention the capacity that needs to come from Australia's electricity grid once consumers embrace EV and PHEV technology more broadly," he said.
Mr Wescott said that without a clear end to semiconductor and battery supply in sight, the arrival of a PHEV version of the Triton and Pajero Sport remains fluid, despite indications pointing to the fact that development of such models is clearly underway.
"I can't say when we will see this technology in a vehicle such as this. The reality is that the current generation of Triton and Pajero Sport is not designed to incorporate that [electrified driveline technology], but I can say that we are exploring ways of incorporating new technologies into the way we manufacture such vehicles in the future," Mr Wescott added.
"As we discussed, there are a multitude of factors that we will need to overcome that will determine how fast those vehicles will come to market. But we have the knowledge and experience on the technology side (to do this), and we're scaling that up."
"But the fact remains that the global supply and demand situation remains – and it is a complex situation – and I would venture to say that we're not the only OEM that is exploring or investigating these types of things. That's why it is very hard to put a time frame on when we might see a plug-in hybrid version within that realm."
For Mitsubishi, it is expected a Triton and Pajero Sport PHEV would feature a more powerful version of the driveline offered in the recently launched Outlander PHEV, which includes a 20.0kWh lithium-ion battery pack, 85kW front and 100kW rear electric motors, and a 98kW naturally aspirated 2.4-litre petrol engine – contributing to a total system output of 185kW/450Nm.
In the Outlander PHEV range, the combination offers an all-electric driving range of up to 84km, though this is likely to decreased in the heavier Triton and Pajero Sport, especially when towing or carrying loads in the tray. Combined cycle fuel consumption for the powertrain in Mitsubishi's Outlander PHEV is quoted at 1.5 litres per 100km.
The Mitsubishi Outlander PHEV range is available now.
---