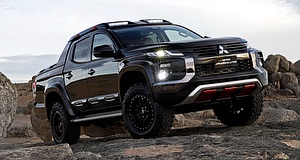 MITSUBISHI has all but confirmed the arrival of a range topping Triton variant based on the current MR-series dual-cab ute.
Likely to be named the Triton Ralliart, and with equipment and appearance elements resembling concept models including the Triton Absolute and AXCR, the variant is expected to sit atop the current Triton range, rivalling such competitors as the Nissan Navara PRO-4X Warrior and Toyota HiLux Rugged-X.
Speaking to GoAuto at the launch of the new Outlander PHEV range in Adelaide this week, Mitsubishi Motors Australia Limited (MMAL) CEO Shaun Westcott gave credence to rumours surrounding the arrival of a Triton Ralliart, saying it's a matter of when, and not if, the range-topping variant will appear in local showrooms.
"True to our heritage and our roots in Ralliart, we've planned to reintroduce a little spice and a bit of excitement to the brand – and we've already signalled that with the Triton Asia Cross Country Rally (AXCR) and Absolute concept models were shown at events including the Tokyo Motor Show," explained Mr Westcott.
"We have a very close and significant relationship with our Japanese compatriots from MMS and we also have an R&D team here in Australia, and while there is already a lot of speculation about the new Triton – and I know there have been some photos leaked out of Europe – I can say that there is still some life left in the existing Triton, and there is much more to come in that space."
The allusion to a "spicy" MR-series Triton variant was further supported by Mitsubishi Motors Australia Limited (MMAL) senior manager of product strategy, Owen Thomson.
Mr Thomson said the business case was being discussed with a third-party supplier, meaning MMAL will likely produce the sportier Triton via a venture like that between Nissan and Premcar with their Navara Warrior range.
"A third-party has expressed interest in doing something like this with the current generation Triton, but it is too early to outline particular details around specification and timing," said Mr Thomson.
"Planning is in the early stages, the very early stages, but the formula will focus on the capability of our driveline at its core."
Mr Thomson told GoAuto that the range-topping utility will likely rival competitors such as the Nissan Navara PRO4X Warrior and Toyota HiLux Rugged-X, without offering an enhanced or high-performance driveline comparable to that found under the bonnet of the V6-powered Ford Ranger Raptor.
He indicated that the Ralliart variant would sit atop the current Triton GSR, potentially offering extended capabilities, equipment and appearance inclusions not previously available from the showroom floor.
"That's where the early conversations are going, and we will have more to say about it soon," he said.
It is understood that the Triton Ralliart will not offer any more power than its derivative range – which is powered exclusively by Mitsubishi's 2.4-litre MIVEC turbo-diesel unit developing 133kW/430Nm.
It will likely ride on upgraded suspension – potentially Old Man Emu's BP51 dual bypass setup already available optionally through ARB – and receive additional underbody and frontal protection as well as rollover protection, off-road biased tyres, widened fender flares and unique body cladding.
When realised, it is understood the Triton Ralliart will likely showcase many of the attributes shown on Mitsubishi's Triton Absolute dual-cab concept which debuted during the 2019 Bangkok Motor Show.
That model was decked out with an all-black body kit with red and silver highlights, additional LED lighting, underbody protection and roof-mounted LEDs for off-road use. It also featured custom rear bar work, Absolute badging, M-I-T-S-U-B-I-S-H-I lettering across the tailgate, a tailgate spoiler, tub rails and a black sports bar.
Mitsubishi further adorned the Triton Absolute with an integrated roof rack, carbon-fibre-look body cladding, widened fender flares, 18-inch bead-locked alloys with Falken Wildpeak AT3 all-terrain rubber, and a 50mm suspension lift.
The Mitsubishi Triton – which was last updated in 2018 – is currently one of Australia's best-selling four-wheel drive utilities with year-to-date sales of 15,028 units placing it in third place within the popular Pick-Up/Cab-Chassis 4×4 segment.
The Triton is outsold only by the segment leading Toyota HiLux (with 23,852 unit sales to the end of June 2022) and Ford Ranger (18,285).
---