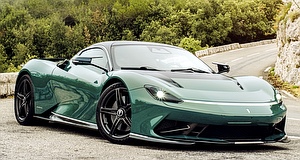 AFTER working on the Nevera for five years through 19 prototypes, 45 crash tests as 1.6 million development hours, Croation EV technology firm Rimac last week announced the first production model of its hypercar was ready to ship.
Coinciding with Rimac's production announcement, Italian design studio turned vehicle manufacturer Pininfarina made its own announcement that a Nevera-based Battista hypercar was rolling off its production line in Cambiano, Italy.
The Battista leverages plenty of the Nevera's underpinnings but Pininfarina makes more modest claims compared to its Croatian cousin. It has the same 120kWh battery pack but is a few kilowatts and Newton metres shy of Nevera's claimed outputs.
Rimac touts the Nevera as the fastest hypercar in the world (at the moment) based on extraordinary statistics like 1900hp (1430kW) and 2300Nm of torque from the combined outputs of four electric traction motors complete with torque vectoring for safety.
The potent powertrains of both cars are juiced by a T-shaped battery pack that resides in the centre tunnel of the car and is good for a claimed 500km plus range in normal driving mode.
As the Nevera has a pair of two-speed gearboxes for the rear axles, it's highly likely Battista will have the same set-up which means that at high speeds it will become rear-wheel drive.
The Nevera (the name for a sudden tempest in Croatian) is said to be capable of a 0-100km/h sprint in the 1.85-second bracket and be able to exceed 400km/h.
Coming from Pininfarina dictates that the Battista features a sleek, flowing design reminiscent of other efforts from the design house.
A team of 10 craftspeople will build each Battista at the facility. Each takes 1250 hours to complete, with an ultra-exclusive Anniversio variant requiring an additional 90 hours of work because of bespoke elements and a hand-applied finish.
The Battista's carbon-fibre passenger cell is a two-seater despite the car being pitched as a GT usually associated with four seat cars.
A customisable sound generator offers simulated noises to match Battista's five driving modes while inside is dominated by a mix of digital screens around the driver's cockpit. Upholstery is open to personalisation but restricted to manmade suede, Alcantara, metal, carbon-fibre and wood fascia.
According to Per Svantesson, CEO of Automobili Pininfarina: "Not only is this the most powerful road-legal Italian car ever built, but it delivers an entirely new take on sustainable automotive luxury, capable of providing both extreme performance and cossetting refinement."
"It's a true GT car that looks to the future of sustainability, bolstered by the very latest in-car technologies and virtually limitless scope for personalisation, outside and in."
In addition to Pininfarina, several car-maker stakeholders in Rimac each want a slice of the Nevera pie to produce their own version of the sledgehammer sportscar, or at least lean on much of its technology.
Since merging with Bugatti late last year to create Bugatti Rimac, Bugatti is said to be well along the path to launching a Rimac-based hypercar.
Among Rimac's shareholders are Porsche (VW Group including Lamborghini, Bugatti and Audi), as well as Hyundai and Pininfarina.
It is understood that Lamborghini is not far behind Bugatti in the queue for the Croatian-developed EV technology and Hyundai has plans for an "N" performance car with Rimac technology.
---