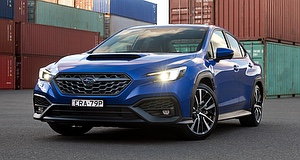 Overview
IF IT'S too loud, you're too old.
Once upon a time, that was a simple and effective way to let you know that the music you're listening to – or the sports sedan you're driving (or want to drive) – no longer suited your demographic. But what if, rather than alienating the "listener", the music was simply turned down, played at slower tempo and more sophisticated?
That's exactly what Subaru has done with its latest WRX – and, what's more, the Shibuya-based manufacturer makes no bones about it.
At the launch of the latest iteration of the Japanese sports sedan, the company openly admitted the fifth generation WRX was aimed at a "more mature" and "less boy-racer" audience than before. And in some ways, that's completely fine. I mean, as a top-10 importer I am sure Subaru knows its customer better than I do…
But in choosing to cater almost solely to existing customers – and in softening the WRX while simultaneously axing its hardest-charging STi variant – Subaru has forgotten a rather important piece of the performance car puzzle… that halo models attract new and younger buyers to the brand.
To look at it another way, consider that the new WRX is only 5kW more powerful than the outgoing model. It has the same peak torque value and the same 0-100km/h time as before, but is, at the same time, specified with a 400cc larger engine, which, like the remainder of the package, is smoother and more refined, but not edgier.
Of course, the sales pitch is that smoother is better, and more refined is what the customer wants. But when you stop and consider the success rivals such as Hyundai and – I can't believe I'm typing this – Toyota are enjoying from offering cars with a little more mongrel, it seems Subaru may have very well sold the farm. Time will tell.
Stepping away from the elephant in the room, the new WRX is indeed everything its maker claims it to be.
More comfortable? Check. More refined? Check. Quieter? Check. Slower? Well, it's certainly no faster than the outgoing model. In fact, it's 0.3 seconds slower in the 0-100km/h dash than the second-generation WRX (circa 2000) – and, interestingly, "boasts" exactly the same combined cycle fuel consumption figure (10.0L/100km).
It is also the least powerful and torquey all-wheel drive entrant in its competitor set, and the second least powerful and second-slowest accelerating model behind all front-wheel drive rivals apart from the Volkswagen Golf GTI (see table below).
But that's all somewhat immaterial when you're selling a car to people who've already owned or have always desired to own your hotted-up small sedan (or wagon, which supersedes the Levorg). Subaru Australia says WRX buyers will shop a WRX almost irrespective of the competition on offer elsewhere, and insists the changes made in "maturing" its latest Rex are entirely what its target market wants.
Given I almost fit the target audience, let's find out if at least that much is true.
---