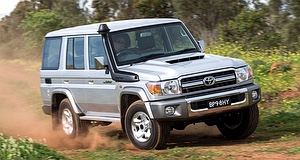 WAITING-TIME blowouts have forced Toyota Australia to suspend orders for the LandCruiser 70 Series range.
Described as a customer-focused measure, the pause is due to demand far outstripping supply amid ongoing production disruptions across the global automotive industry.
While it is the oldest model on the Australian market, the workmanlike LandCruiser 70 Series (LC70) remains as popular as ever in Australia due to its versatility and rugged capabilities.
The demand for ute, wagons and troop carrier variants is so great that low-kilometre pre-owned examples are selling for in excess of $100,000.
According to Toyota Australia vice president of sales, marketing and franchise operations Sean Hanley, the decision was made due to what the company describes as an evolving situation, which also affects existing orders.
"The Toyota team has been working diligently to deliver a record number of vehicles with extraordinary support from our parent company," Mr Hanley said.
"At the same time, strong demand and industry-wide supply challenges globally mean we simply cannot fulfil orders more quickly.
"Therefore, we have decided to pause new customer orders for the LandCruiser 70 Series. Dealers will be in direct contact with customers about wait times for individual existing orders over the coming months."
Mr Hanley did not provide an estimated date for when orders will resume, but added his company was monitoring the global supply situation closely and will continue to make decisions based on the best interests of our customers and dealers.
"I understand this news will be disappointing and want to sincerely apologise to our customers and assure them we will continue to provide updates as further information becomes available."
In May 2022 Toyota announced an update to the LC70 ute and wagon variants – the first since 2016 – to satisfy the latest Australian Design Rules, mostly by upping its gross vehicle mass to more than 3500kg, which takes it from the light commercial segment into the lesser-regulated medium truck segment.
The updated vehicles were to go on sale on November 1 this year, though it is unclear how the suspension of new orders will impact that timeline.
Prior to the decision to suspend orders, LC70 waiting times had blown out to about twelve months, with some dealers claiming waits of up to four years.
It is not the only Toyota model to succumb to supply issues, with the RAV4 SUV also facing twelve-month waits, and the new LandCruiser 300 Series and hybrid Camry variants experiencing delays of around eight months.
Other models are experiencing waiting times of around six months or less, including the HiLux that, unlike the LC70, has several credible rivals in its segment to soak up demand.
Toyota has acknowledged the disappointment facing customers on its dealer websites, stating: "We apologise to our customers and understand this is frustrating."
---