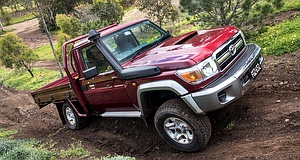 TOYOTA has found a workaround to pending side-impact crash regulations by raising the gross vehicle mass (GVM) of selected LandCruiser 70 Series (LC70) variants.
The updated LC70 utility and wagon, which will go on sale from November, will offer an increased GVM (of more than 3500kg) and heightened payload capacity that will effectively reclassify the model as a medium-segment truck.
The adjustment means the LC70 will avoid the expensive reengineering required to improve the side-impact protection offered by the now 37-year-old model, while, at the same time, offering customers what Toyota describes as "useful increases in payload".
Changes to the 70 Series apply only to utility and wagon variants. The single-cab version of the utility is the only variant that has received a five-star ANCAP safety rating (albeit in 2016). Other variants – including the popular Troop Carrier – are untested, and offer only a driver and passenger airbag, anti-lock braking, and traction and stability control.
From November 1, light commercial vehicles with a GVM of less than 3500kg will be subject to stricter side impact crash regulations under Australian Design Rule 85/00 (ADR 85). The changes have already impacted several passenger car models and require significant structural changes to reduce serious injuries and fatalities from side impacts.
The good news for LC70 utility and wagon buyers is that more safety equipment is on the way. Toyota will upgrade the variants with a pre-collision safety system incorporating autonomous emergency braking (with pedestrian and cyclist detection) from November but has yet to confirm whether the changes spell an increase in price for the range.
The LC70 utility and wagon range is priced from $67,400 to $78,500 plus on-road costs.
"The upcoming changes are designed to ensure that the legendary LandCruiser 70 Series will continue to be available for the foreseeable future in the Australian market, where its popularity resulted in more than 13,900 sales last year," said Toyota Australia vice president of sales, marketing and franchise operations, Sean Hanley.
"The increase in GVM is sure to appeal to owners who use the 70 Series as a tool of trade or are seeking an even greater ability as a heavy-duty recreational off roader.
"Combined with heavy-duty suspension and 3,500kg towing capacity, these upgrades will enhance the versatility and rugged reputation for this legendary vehicle."
Mr Hanley said further details of updates to the LC70 will be confirmed closer to the model's local launch. Despite the range's less-than-stellar safety credentials, Toyota Australia has sold 3367 examples of the LC70 utility so far this year.
The model, which competes in the Pick-Up/Cab-Chassis 4×4 segment, competes with smaller utility models, including Toyota's best-selling HiLux, as well as larger American models such as the Chevrolet Silverado and Silverado HD, and RAM 1500, 2500 and 3500 ranges.
---