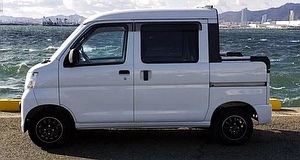 TOYOTA has announced this week that it would work with allied manufacturers Daihatsu and Suzuki to develop small electric commercial vans and light-duty fuel cell electric trucks as part of efforts to achieving carbon neutrality.
According to a report published in Automotive News Europe (ANE), the models will be developed for a project to promote the widespread use of electrified vehicles and eventually for the mass market.
The project, which is scheduled to begin in January next year, will see the vehicles being used initially to transport goods between Tokyo and the nearby Fukushima prefecture. Around 580 vehicles will be produced for use within the project.
According to ANE, Toyota said it will work closely with Daihatsu and Suzuki to develop small electric commercial vans with the eventual aim of bringing the models to the mass market at "a suitable time".
The three companies said they will "jointly develop a BEV system for mini-commercial vehicles" but added that the project will utilise "Suzuki and Daihatsu's know-how in manufacturing mini vehicles with Toyota's electrification technology."
Kei-class minivans are a segment largely specific to Japan where they account for approximately 60 per cent of the country's commercial vehicle fleet. Many are equipped with refrigeration and freezing units for distribution of goods to supermarkets and convenience stores that are inaccessible to larger vehicles.
Toyota will also cooperate with truck manufacturers Hino, Isuzu and Commercial Japan Partnership Technologies Corporation (largely in the planning process) in developing light-duty fuel cell electric trucks.
The use of fuel cell technology, which runs off high energy density hydrogen and emits zero tailpipe emissions when driving, is viewed as a favourable alternative to diesel-powered commercial vehicles.
In a statement, Toyota said fuel cell technology is better suited to trucks that are more likely to travel longer distances as they may be refuelled more quickly than their EV counterparts.
"Suzuki, Daihatsu, Toyota and CJPT will continue to promote efforts to practically achieve carbon neutrality through the provision of sustainable means of transportation," the companies said in a statement.
The project is scheduled to run until March 2030 and is being organised by a Toyota-led commercial EV coalition with participation from local governments, logistics and energy companies.
Toyota continues to pursue a variety of automated, connected and electrified technologies and has committed to accelerating efforts to achieving carbon neutrality with a recently announced US$13.5 billion ($A19.7b) investment in battery development by 2030.
The world's largest car-maker said the funds will be used to develop batteries and associated supply chain technology that will help it to keep pace with competitors in the growing electric car and truck market.
Toyota said it wants to reduce the cost of its vehicle batteries by at least 30 per cent through a combination of lower cost materials and more efficient manufacturing techniques. It aims to set up 70 electric vehicle battery production lines by the end of the decade capable of producing 200 gigawatt hours of battery power.
According to Reuters, Toyota is specifically focused on producing solid-state batteries which it plans to use in as many as "eight million partially or fully electrified vehicles by 2030," or which approximately two million will be BEVs or FCEVs.
---