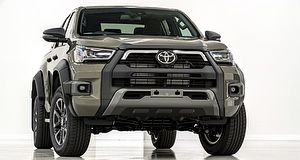 AUSTRALIAN new vehicle sales are up marginally in July with 84,461 registrations recorded – a 0.4 per cent (300 unit) increase over the same time last year.
Over the month's 26 selling days – one fewer than in July 2021 – an average of 131.4 vehicles were sold per day, the majority from within various SUV segments, which boast an aggregate figure of 2684 unit sales (up 6.4% over the same time last year) for the month of July.
Passenger vehicle sales tallied 1596 for July, a 9.1 per cent drop over the same month last year, while sales of light commercial vehicle also fell, down 4.4 per cent to 930 units. The heavy commercial vehicle sector was up slightly to 142 unit sales (+4.0%) versus July 2021.
On a brand-by-brand basis, Toyota again topped the domestic sales chart in July with an 11,686 unit lead over second-place Mazda (or 13.9 market share points). Hyundai ranked in third place for the month. Toyota sold 19,565 units across July ahead of Mazda with 7879, Hyundai with 6792, Kia with 6711 and Mitsubishi with 5611 units.
The Toyota HiLux was again the highest selling model with 6441 sales reported. It led the Ford Ranger (2934 units), Toyota RAV4 (2437 units), Mazda CX-5 (2346 units) and Hyundai Tucson (2186) for the month of July.
On a state-by-state basis, and in order of the highest sales volume to the lowest, it is New South Wales that ranked in first place for July with 26,519 new vehicles sold (up 10.9% over July 2021). Victorians purchased 22,076 new vehicles (-5.8%), Queenslanders 18,900 (-1.1%), Western Australians 8059 (-9.0%) and South Australians 5469 (+13.3%).
Tasmania, Australian Capital Territory and the Northern Territory all recorded declines in sales, down 13.2 per cent, 16.4 per cent and 16.6 per cent to 1327, 1175 and 756 units respectively.
The FCAI says July's figures bring the year-to-date new vehicle sales total to 622,319 units overall with CEO Tony Weber saying the relatively flat result shows that the market has not normalised since the beginning of the pandemic.
"Vehicle and component manufacturing operations remain affected by plant shutdowns caused by COVID-19," commented Mr Weber.
"Logistics, including shipping, remain unpredictable. While small growth on the same month in 2021 is encouraging, we do not expect the supply of vehicles to Australia to stabilise in the near future."
"Once again Australia is following the global trend of demand for new vehicles exceeding supply," he concluded.
Top 10 vehicle sales by make (July 2022):
| | | |
| --- | --- | --- |
| Make | Sales | Share |
| Toyota | 19,565 | 23.2% |
| Mazda | 7879 | 9.3% |
| Hyundai | 6792 | 8.0% |
| Kia | 6711 | 8.0% |
| Mitsubishi | 5611 | 6.6% |
| Ford | 4439 | 5.3% |
| MG | 3018 | 3.6% |
| Subaru | 2822 | 3.3% |
| Isuzu Ute | 2748 | 3.3% |
| Nissan | 2189 | 2.6% |
Top 10 vehicle sales by model (July 2022):
| | | |
| --- | --- | --- |
| Model | Sales | Variance |
| Toyota HiLux | 6441 | +39.7% |
| Ford Ranger | 2934 | -27.8% |
| Toyota RAV4 | 2437 | +3.9% |
| Mazda CX-5 | 2346 | -1.8% |
| Hyundai Tucson | 2186 | +72.8% |
| Toyota LandCruiser | 2146 | +41.0% |
| Toyota Corolla | 1982 | -21.8% |
| Isuzu Ute D-Max | 1930 | -20.5% |
| Mitsubishi Triton | 1879 | +18.9% |
| Kia Sportage | 1837 | +201.6% |
State by state (July 2022):
| | | |
| --- | --- | --- |
| State/Territory | Sales | Variance |
| New South Wales | 26,519 | +10.9% |
| Victoria | 22,076 | -5.8% |
| Queensland | 18,900 | -1.1% |
| Western Australia | 8059 | -9.0% |
| South Australia | 5649 | +13.3% |
| Tasmania | 1327 | -13.2% |
| Australian Capital Territory | 1175 | -16.4% |
| Northern Territory | 756 | -16.6% |
---