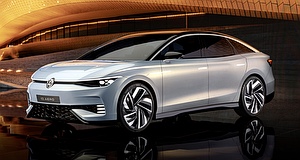 VOLKSWAGEN'S has premiered its ID Aero concept – a near production-ready mid-size and aerodynamically sculpted (hence the name) battery-electric sedan that will be built in China.
Although the demand for mid-size sedans has fallen considering consumers' predilection for small- and medium SUVs, VW and other brands are keeping the three-box shape alive for upcoming BEVs.
The ID Aero show car previews the brand's first global fully-electric sedan and, as is the case with the BMW i4 and Tesla Model 3, the model will be positioned in the "premium" mid-size sedan segment.
Despite the rakish styling, the ID Aero provides generous interior space for four thanks to a long wheelbase and great space utilisation, which is inherent to models built on dedicated EV platforms.
An on-sale date in China by the second half of 2023 points to a production start early next year for that country. European production will commence later in the year at VW's Emden plant.
"With the ID Aero show car, we are revealing a preview of the next member of the ID. family. A car with an emotional and at the same time extremely aerodynamic design, a range of over 600km, an extraordinary amount of space and a premium interior," says Volkswagen Passenger Cars' chief executive officer, Ralf Brandstätter.
"With our Accelerate strategy, we are intensively driving forward the electrification of our range. Following the ID.4, this model will be our next global car for Europe, China and the US," he said.
The concept car, which is based on VW's modular electric drive matrix (MEB) is almost five metres long, has short overhangs and was designed based on aerodynamic principles. The roof slopes elegantly to the rear, coupe-style, and contributes to an impressive drag coefficient of just 0.23.
The ID Aero is equipped with a powerful lithium-ion battery with a net energy content of 77 kWh. Thanks to the interaction of the efficient drive system and the vehicle's efficient aerodynamic properties, the sedan has a claimed range of up to 620km, making it suitable for long distances.
Volkswagen is stepping up its electric offensive in China. Following the ID.33, ID.43 and ID.63, the production version of the ID Aero will be the fourth fully-electric model series in China.
Two versions are planned there – one for each Volkswagen joint venture. Based on its regional strategy, Volkswagen is aiming to become the leading supplier of sustainable vehicles in China. As early as 2030, it is planned that at least every second vehicle sold in China will be an electric vehicle.
Volkswagen is driving forward its electric offensive worldwide on the "Way to zero" philosophy and the production version of the ID Aero will be its flagship model.
The car's elegant and aerodynamic design features a wrap-around light strip and a metallic paint finish, 22-inch two-tone turbine-style wheels are integrated flush into the wheel housings and conventional door handles are replaced by illuminated touch surfaces, which further reduce drag.
Volkswagen further says the ID Aero demonstrates the flexibility of Volkswagen's purely electric MEB architecture, which can be adapted for vehicles of different shapes and sizes. The MEB can be used across segments – from compact crossover or SUV and minibus through to spacious sedan.
The first MEB-based vehicle that will be offered in Australia will be the Cupra Born battery-electric light hatchback, which is due to be released in our market in early 2023.
---