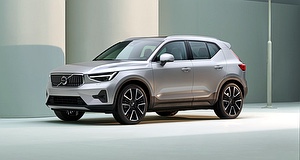 PETROL only engines are a thing of the past at Volvo following the announcement of a revised, 2023 model year XC40 that will hit Australian showrooms next month with only hybrid petrol-electric or pure EV propulsion.
Additionally for 2023, Volvo has rejigged XC40 styling and massaged the model range while ratcheting up prices significantly over the previous cars, with increases of between $4500 to $5500 model dependent.
External changes are minor, centred on the frontal appearance with a new grille, headlights, bumper and detail changes elsewhere using elements from Volvo's sleek C40 coupe-style SUV. Visible changes are topped off by new wheels and new colours.
Inside, the XC40 is a hypoallergenic, leather-free environment with, once again, detail changes and a new Android Automotive infotainment system. Specification changes have been implemented across the board.
The T4 and T5 petrol engine models are deleted in favour of new B4 and B5 units with 48-volt mild-hybrid systems.
Volvo says the hybrids offer similar performance to the turbo-petrol cars but superior fuel economy and lower emissions.
Motive power now comes from a choice of three hybrid petrol/electric (front- and all-wheel drive) and two electric models, in either Plus or Ultimate specification levels that replace the former Momentum, Inscription and R-Design grades.
External differentiation between the two new model grades will be only by wheels and trim colour. Increased prices mean the base model Plus B4 is $52,990 before on-road costs.
The popular XC40 Recharge Pure Electric range is now available with single or dual drive motors with the new single-motor Plus variant from $72,990 plus on-road costs.
It has less power and a smaller battery pack than the carried over dual-motor version, now priced from $79,490, in Ultimate grade. This is an increase of $2500 on last year's dual-motor XC40.
A plug-in hybrid XC40 is no longer available.
Offsetting price rises is more standard equipment with the base model scoring wireless phone charging, an electric tailgate, electric passenger seat among a raft of additions.
Higher grade cars gain even more features including the desirable 360-degree camera, and an air purifier to complement XC40's hypoallergenic interior.
Other electronic upgrades include the adoption of USB-C ports (replacing USB-A), support for a Volvo Cars app, not to mention a new infotainment system using by Google's Android Automotive operating system.
Android Automotive incorporates necessities like Android Auto, Google Maps navigation, over-the-air updates and Google Assistant and while also offering compatibility with smartphone mirroring systems Android Auto and Apple CarPlay.
Variant names for mild-hybrid XC40s mean the T4 Momentum moves to Plus B4, T4 Inscription moves to Ultimate B4 Bright, and T5 R-Design moves Ultimate B5 Dark.
In conjunction with electric traction motors, the new mild-hybrid petrol models run a 2.0-litre turbocharged four-cylinder petrol engine developing 145kW/300Nm in the B4 and 183kW/350Nm in the B5.
The hybrid system runs on 48 volts with 10kW/40Nm boost under maximum throttle application. To save fuel, the hybrid system shuts down the petrol engine under low loads, cruising or when decelerating.
An eight-speed automatic transmission is standard, driving the front wheels in the Plus B4 or all four wheels in the Ultimate B4 and B5.
Acceleration times 0-100km/h are 8.4 seconds, 8.5 seconds and 6.4-seconds in ascending order, the same as for XC40 petrol powered cars.
Fuel economy claims from Volvo suggest improvements of between seven to 12 per cent in combined driving.
In hard numbers that is: 6.9L/100km for Plus B4, 7.1L/100km for Ultimate B4, and 7.2L/100km for the B5.
Pure Electric XC40 kicks off with the new single-motor model with a 170kW/330Nm front-mounted electric motor and 69kWh battery. It is a second slower than the B5 hybrid model in a 0-100km/h sprint at 7.4 seconds.
The high performance dual-motor Ultimate sports twin 150kW electric motors, all-wheel drive and a 75kWh battery giving a total of 300kW and 660Nm. It clocks a 0-100km/h sprint in 4.9 seconds.
Claimed charge ranges for the single and dual motor Pure Electric XC40s are 434km and 418km. Both offer 150kW DC fast charging.
2023 Volvo XC40 pricing*:
| | |
| --- | --- |
| XC40 Plus B4 FWD | $52,990 |
| XC40 Ultimate B4 Bright AWD | $59,990 |
| XC40 Ultimate B5 Dark AWD | $63,990 |
| XC40 Recharge Pure Electric Plus single-motor | $72,990 |
| XC40 Recharge Pure Electric Ultimate dual-motor | $79,490 |
*Excludes on-road costs
---