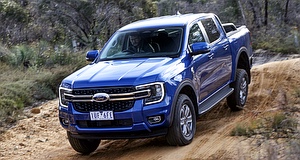 DEMAND for the new Ford Ranger has seen the company scramble to cover the volume of pre-orders it holds, even resorting to air-freighting parts to help fulfil customer expectations and setting up a special stock availability tracking website to help manage those expectations.
As of Monday July 11, the day before new Ranger ute was officially launched, Ford was holding in excess of 17,000 orders for various models, more than 4000 of them for top of the line Ranger Raptors.
Industry insiders say such a surge of pre-launch orders would be unprecedented in the local motor market and was possibly driven by a number of factors, not the least being pent-up demand and tax write-offs, but also by Ford's model line-up itself.
An F-150 – to which the new Ranger owes much of its styling – is due soon, shipped out of the United States and converted in Melbourne to right-hand drive.
Like other so-called full-size utes from other manufacturers, the F-150 will be imported in premium trim levels and is tipped to hit showrooms at well over the $100,000 mark – as is the case with the equivalent Ram 1500 and Chevrolet Silverado 1500 competitors.
This kind of money is a show-stopper for many Australian ute buyers, no matter how high the desire to own such a vehicle. And the 3.5-litre, 298kW/678Nm twin-turbo petrol V6 pushing 2.5 tonnes plus would likely not be the most economical proposition in a time of spiralling fuel costs.
By comparison, even the range-topping 292kW/583Nm Ranger Raptor with 3.0-litre V6 turbo-petrol and butch F-150 styling DNA, looks tempting at $85,490 before on-road costs. Even the top-spec Ranger Wildtrak with 184kW/600Nm 3.0-litre turbo-diesel V6 option is a relative snip at $70,190 + ORC.
Sweetening the deal further is the fact that Luxury Car Tax is not payable on such a vehicle. Commercial vehicles designed to carry goods rather than passengers are exempt from the tax, which can spare some high-end utes.
The exemption is based on the vehicle's payload over the passenger carrying capacity.
According to Ford, "Next-Gen" Ranger answers the call from customers for more technology, more torque and more capability, reflecting the broad use of pick-ups from work, to family and play."
Ford says that despite the new Ranger's V6 diesel being inherited from the F-150 – although dropped from that model last year in favour of hybrid technology – for this new application it was "treated like a brand-new engine, undergoing a wide range of durability, calibration and validation work to ensure it was match-fit for Ranger".
Ford's Ranger and Everest program manager Pritika Maharaj said her team "did a lot of application calibration and validation work in both the US and Australia to make sure it would meet the needs of Ranger and Everest customers".
Rangers with a V6 also have a multi-mode four-wheel-drive system that can be operated like a permanent on-demand 4×4 set-up in a similar way to the Super Select technology offered on the Mitsubishi Triton.
No manual gearbox is offered, the only cog-swappers being a six- and 10-speed torque converter automatics.
Ford suggests the 10-speed unit can withstand a fair bit of punishment, having undergone "six million kilometres of testing, including more than 3900km of sanctioned off-road racing".
Part of said off-road racing was competing at the gruelling Baja 1000, meaning the mid-level 2.0-litre bi-turbo diesel should pose no stress to the transmission with its 154kW/500Nm outputs.
This engine is available with every dual-cab Ranger variant except the Raptor, as well as some Super- and single-cab variants while the less powerful 125kW/405Nm single-turbo unit with six-speed auto does duty mainly on fleet-spec 4×2 XL (prices start at $35,930 + ORC for the single cab chassis) and low-end 4×4 variants.
Only dual-cab 4×4 XLT, Sport and Wildtrak Ranger variants can be optioned with the V6 diesel that also uses the 10-speed auto.
In the run up to this week's Ranger launch, Ford Australia added resources to its website to "data mine" and also provide customers and prospective buyers with up-to-date vehicle availability information.
The initiative was prompted by strong interest in the Ranger, Ranger Raptor and Everest, as well as global semiconductor and pandemic-related supply chain challenges, which mean some customers will face extended waits.
The web page is updated regularly to provide customers with up-to-date information on vehicle supply and answers common questions.
"We know prospective buyers and intending customers want accurate information and transparency about wait times and when their vehicle will arrive," said Andrew Birkic, President and CEO, Ford Australia and New Zealand.
"This dedicated webpage will keep them informed but we'd also encourage customers to stay in contact with their dealers about the status of their vehicle."
In an effort to satisfy demand, Ford Australia has air-freighted parts where needed.
2022 Ford Ranger 4×2 pricing*:
| | |
| --- | --- |
| XL HR Single-Cab Chassis 2.0SiT (a) | $35,930 |
| XL XR Super-Cab Chassis 2.0SiT (a) | $38,430 |
| XL HR Double-Cab Chassis 2.0SiT (a) | $40,430 |
| XL HR Double-Cab Pick-Up 2.0SiT (a) | $42,330 |
| XLS HR Double-Cab Pic-Up 2.0BiT (a) | $46,730 |
| XLT HR Double-Cab Pick-Up 2.0BiT (a) | $53,990 |
2022 Ford Ranger 4×4 pricing*:
| | |
| --- | --- |
| XL Single-Cab Chassis 2.0BiT (a) | $47,030 |
| XL Double-Cab Chassis 2.0SiT (a) | $48,030 |
| XL Super-Cab Chassis 2.0BiT (a) | $49,030 |
| XL Double-Cab Pick-Up 2.0SiT (a) | $49,930 |
| XL Double-Cab Chassis 2.0BiT (a) | $51,530 |
| XL Super-Cab Pick-Up 2.0BiT (a) | $51,340 |
| XL Double-Cab Pick-Up 2.0BiT (a) | $53,430 |
| XLS Double-Cab Pick-Up 2.0BiT (a) | $54,330 |
| XLT Super-Cab Pick-Up 2.0BiT (a) | $59,190 |
| XLT Double-Cab Pick-Up 2.0BiT (a) | $61,190 |
| XLT Double-Cab Chassis 2.0BiT (a) | $62,290 |
| XLT Double-Cab Pick-Up V6 (a) | $64,190 |
| Sport Double-Cab Pick-Up 2.0BiT (a) | $63,690 |
| Sport Double Cab Pick-Up V6 (a) | $66,690 |
| Wildtrak Double-Cab Pick-Up 2.0BiT (a) | $67,190 |
| Wildtrak Double-Cab Pick-Up V6 (a) | $70,190 |
| Raptor Double-Cab Pick-Up V6 EcoBoost (a) | $85,490 |
*Pricing excludes on-road costs.
---