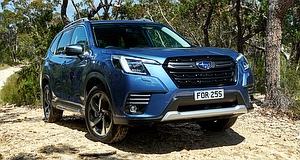 SUBARU Australia has secured stock of the 2023 Forester, which can now be ordered for delivery during the fourth quarter of 2022.
With MY22 Foresters selling out after being subject to delays of up to five months, buyers of the mid-size SUV can now order the MY23 mode that comes with a barely noticeable update including the addition of an auto-dimming rearview mirror to 2.5i Sport AWD, 2.5i-S AWD and Hybrid S AWD variants
Sapphire Blue Pearl replaces the Dark Blue Pearl option for 2.5i Sport AWD.
The MY23 Forester is otherwise identical to the current facelifted model that first went on sale in October 2021 – but like almost everything else at the moment, prices are up, Subaru blaming costs associated with production and logistics.
Entry-level pricing has risen by $1900, with the 2.5i variant now priced at $37,890 before on-road costs.
The mid-spec 2.5i-L and Hybrid L are also up by $1900, while customers will pay $1950 more for the 2.5i Premium, while the addition of the electrochromatic mirrors to the 2.5i Sport, 2.5i-S and Hybrid S is offset by the price jumping $2150, meaning the petrol-electric range-topper now priced at $49,350 before on road costs.
It is worth noting the Forester was unaffected by price rises in May 2022, which saw the rest of Subaru's SUV range rise by $800, because it was no longer available.
At the time, the Subaru Australia website told potential customers the MY22 Forester was currently unavailable for purchase, with a company spokesperson admitting it was sold out.
Interested customers were encouraged to speak to their local Subaru retailer about registering their interest for the upcoming MY23 Forester.
The Australian Subaru website has since been updated to reflect the model-year changeover, with interested customers told to visit or contact their local Subaru retailer to purchase the MY23 model.
The car they will be buying includes features that were new to the MY22 Forester, such as a more comprehensive EyeSight safety and driver-assist technology suite as standard on the facelifted Forester and bigger touchscreens in lower-spec variants.
Middle and higher-spec Forester variants come with adaptive headlights, and gesture-controlled air-conditioning, with a redesigned instrument cluster fitted to mid- and high-spec petrol variants.
Available powertrains include a 136kW/239Nm 2.5-litre flat-four petrol engine, and 110kW/196Nm 2.0L petrol e-Boxer hybrid featuring a 12.3kW/66Nm electric motor and lithium-ion battery pack.
Respective Combined fuel consumption ratings are 7.4 litres per 100km and 6.7L/100km.
2023 Subaru Forester pricing*:
Forester 2.5i (a) $37,890
Forester 2.5i-L (a) $49,290
Forester 2.5i Premium (a) $43,090
Forester Hybrid L (a) $43,290
Forester 2.5i Sport (a) $44,840
Forester 2.5i-S (a) $44,840
Forester Hybrid S (a) $49,340
*Excludes on-road costs
---