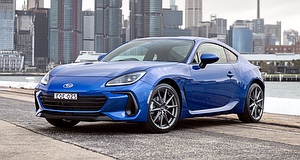 SUBARU Australia has reopened its order books for the BRZ sportscar, but the importer has also announced price hikes to most of the models in its line-up…
The first allocation of BRZs was exhausted in Q3 last year even before the new model arrived. However, the MY23 range is now available with "no changes in specification for the model year changeover", Subaru says.
Priced from $40,290 (plus on-road costs), the BRZ range is powered by a 2.4-litre direct- and port-injected four-cylinder Boxer engine paired to a either a six-speed manual gearbox or automatic transmission.
Two trim variants are available with full pricing details revealed below.
"We're delighted to reopen the order books for the iconic BRZ and that more new-generation BRZs will be finding their homes with Australian sportscar fans," said Subaru Australia managing director Blair Read.
"The new generation BRZ is truly an incredibly nimble sports coupe that is designed and engineered for optimum performance and able to punch well above its weight."
Meanwhile, Subaru upped prices across select models within its portfolio this week in response to what it says are increased production and logistics costs.
Impreza, Outback and XV variants face an increase in list price of $800 from May 5, however newly announced WRX and WRX Sportswagon variants (see link below) and the BRZ range is unaffected.
The Forester range is also unaffected by the price rise, the AWD SUV range remaining available from $35,990 plus on-road costs.
Subaru Australia says it remains committed to delivering exceptional customer experience and that all alternatives were explored before the price adjustments were implemented.
All models come with a five-year/unlimited kilometre warranty, while hybrid variants' high-voltage batteries are covered for eight years or 160,000km.
2022 Subaru BRZ pricing*:
Coupe $40,290 (unchanged)
Coupe (a) $44,090 (unchanged)
Coupe S $41,590 (unchanged)
Coupe S (a) $45,390 (unchanged)
2022 Subaru Forester pricing*:
2.5i AWD (a) $35,990 (unchanged)
2.5i-L AWD (a) $38,390 (unchanged)
2.5i Premium AWD (a) $41,140 (unchanged)
2.5i Sport AWD (a) $42,690 (unchanged)
2.5i S AWD (a) $44,190 (unchanged)
Hybrid L AWD (a) $41,390 (unchanged)
Hybrid S AWD (a) $47,190 (unchanged)
2022 Subaru Impreza pricing*:
2.0i-L AWD sedan (a) $27,290 (+$800)
2.0i-L AWD hatch (a) $27,490 (+$800)
2.0i Premium AWD sedan (a) $29,890 (+$800)
2.0i Premium AWD hatch (a) $30,090 (+$800)
2.0i S AWD sedan (a) $32,590 (+$800)
2.0i S AWD hatch (a) $32,790 (+$800)
2022 Subaru Outback pricing*:
AWD (a) $41,490 (+$800)
Sport AWD (a) $45,990 (+$800)
Touring AWD (a) $49,790 (+$800)
2022 Subaru WRX sedan pricing*:
WRX $44,990 (unchanged)
WRX Sport (a) $48,990 (unchanged)
WRX RS $50,490 (unchanged)
WRX RS Sport (a) $54,490 (unchanged)
WRX tS Sport (a) $56,990 (unchanged)
2022 Subaru WRX Sportswagon pricing*:
WRX Sport (a) $49,990 (unchanged)
WRX GT Sport (a) $55,490 (unchanged)
WRX tS Sport (a) $57,990 (unchanged)
---