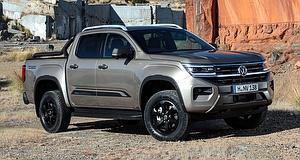 THE NEW Volkswagen Amarok has been fully revealed and it is bigger, punchier and offers more payload than its predecessor. What's more, like the Ford Ranger T6.2 it is based upon, the "third-generation" German ute has undergone extensive Australian development.
After recent camouflaged sightings and various teasers, we were given a fair idea of what the next-gen Amarok would look like, but we can now confirm it isn't as Ranger-esque as expected.
VW has clearly gone to great lengths to ensure that the Amarok is unique in its styling, inside and out, although its powertrain and underpinnings are borrowed from the Blue Oval, which is all part of the twin-under-the-skin arrangement between the car-makers.
The front end looks distinctively 'Amarok', but has, of course, been modernised, with similarly shaped LED headlights (with IQ.Light LED matrix units on higher-spec variants).
Though similar, the new-generation ute is far beefier in appearance; its inflated wheel arches contribute to its dominant presence, compared with the boxier outgoing Amarok.
On the topic of those flared arches, VW carried over the distinctive half-circle design, flat across the top and filled with 17- up to 21-inch alloy wheels depending on the variant.
"For the new generation we have significantly modified the Amarok's archetypal design. It is now unambiguously more expressive and even more impressive", Volkswagen Commercial Vehicles head of design, Albert Kirzinger, said.
It's no illusion, either, because at 5,350mm in length, the new Amarok is 96mm longer than its predecessor and the wheelbase has been stretched to 173mm. This equates to more space inside, VW says, especially for second-row passengers.
Payload gets a bump, too, offering up to 1.16-tonnes of carrying capacity depending on the variant – the 3,500kg braked tow rating remains unchanged.
In the official release material, VW says the new Amarok was "designed and conceived in Germany and Australia", but the versions that will be sold Down Under will be produced at Ford Motor Corporation of Southern Africa's plant in Gauteng, South Africa.
VW sold 830,000 units of the first-gen Amarok across various key markets, with Australia being the second biggest of those (after Argentina), so it's hardly surprising that the Wolfsburg-based firm conducted local testing and development for the next-gen model.
When asked recently about supply issues, VW Australia's general manager of corporate communications, Paul Pottinger, suggested Australia shouldn't have issues getting its hands on supply of the new Amarok.
"Probably not to the extent that we've experienced in the past. Part of the reason is that it's built in South Africa and Australia is unequivocally going to be its biggest market. I don't think we'll suffer for that. It's also just across the Indian Ocean," Mr Pottinger said.
The Amarok will be offered in two- and four-door configurations across five variants; The entry-level Amarok, Life, Style, and equal top-spec options the PanAmericana and Aventura.
It's all a little confusing, but the base model is just called 'Amarok', closely followed by the slightly up-specced Life, with additions like alloy wheels, some leather and additional tech.
The jump up to the Amarok Style brings LED matrix headlights, chrome elements, 18-inch alloy wheels, ArtVelours seat coverings, and higher-end tech features.
Top spot in the range is shared across the hardcore off-road PanAmericana and the luxury-oriented Adventura. They offer top trim options for on-road and off-road focused buyers, which is a somewhat unique approach in the dual-cab ute market, but should prove a smart decision in Australia where many top-of-the-range dual-cabs spend their entire lives on tar.
The 'five options' theme carries over to engines, too, with four turbo-diesel engines and one turbo-petrol unit powering the range.
The biggest engine option – and likely to be popular with Aussie buyers – is Ford's 3.0-litre turbo-diesel V6 with 184kW/600Nm – the current top Amarok produces 190kW/580Nm.
A 2.0-litre 4-cylinder turbo-diesel, a tweaked version of Ford's 2.0-litre Biturbo from the current Ranger, will be offered in various states of tune, ranging from 110kW up to 150kW.
A 2.3-litre turbo-petrol engine, with a peak power output of 222kW, but undoubtedly lower torque than the V6 diesel, will also be an option and, yes, it will be offered in Australia.
When asked what specific engine options will make it to Australia, Mr Pottinger confirmed we will be getting the four-cylinder turbo-diesel in 120kW and 150kW guises, as well as the V6 and petrol options.
From a global perspective, engines tipping the 154kW mark will only be available in conjunction with the 10-speed automatic transmission (as found in the current Ranger – it's widely recognised to be a sweet-shifting unit). Lower-powered variants will be offered with a 6-speed automatic and 5- and 6-speed manual gearboxes, depending on region.
In terms of 4×4 capability, the new Amarok will be available with two 4MOTION options: either constant four-wheel-drive like the current Amarok, or selectable four-wheel-drive.
A smart VW interior may be the biggest attractor for Australian buyers who can't decide between the Amarok and Ranger; even base versions have premium, tech-rich interiors.
The base and 'Life' trim options still get a fully-digital cockpit, with an 8.0-inch instrument display and 10-inch vertical infotainment screen. The higher-spec Style, PanAmericana, and Adventura feature dual 12-inch displays covering instrument and infotainment duties.
The tech upgrade extends to driver aids, with the new-generation Amarok being equipped with no fewer than 20 new assist systems. These include a handy speed control function that scans road signs and slows you up to save on costly constabulary penalties.
Six new drive modes, depending on spec, include; Normal, Eco, Slippery, Snow/Sand, Mud/Rut and Tow/Haul.
Prices haven't been announced, but when GoAuto broached the topic with VW Australia, we were told pricing was expected to be released in Q3 of this year (when order books open).
---