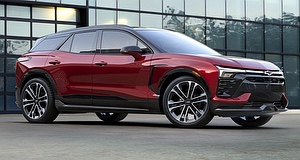 CHEVROLET has released its Tesla Model Y rival, the Blazer EV, in the United States this week. Repurposing a nameplate that dates to 1969, the 'Blazer' SUV will launch next year as a 2024 model-year offering up to 515km of range and – in the performance SS variant – an impressive 415kW of power.
Stateside, the Blazer EV debuts with four trim grades: 1LT, 2LT, RS and SS, and a range of powertrain choices spread over two- (both front- and rear-wheel drive versions are offered) and all-wheel drive configurations.
The Blazer EV rides on General Motors' Ultium platform, but to date Chevrolet has been quiet on battery capacity, saying only that the Blazer EV can be charged at a rate of up to 190kW via a DC fast charger.
Of interest to performance EV fans, and those keen on Tesla's Dual Motor Model Y, the Blazer SS (Super Sport) is arguably the most interesting offering in the range. With 415kW/927Nm on tap, the all-wheel drive variant boasts a sub four-second 0-100km/h time and is equipped with Brembo brakes and independent front and rear suspension.
The SS variant rides on 22-inch alloys and includes an illuminated Chevrolet bowtie on the grille.
Each trim grade is identified by its own unique frontal treatment. LS variants score a blank, body-coloured panel in lieu of a grille, while RS models feature a black grille with full-width LED lighting signature. SS variants receive their own blacked-out frontal mask, along with aerodynamic strakes below the headlights and a black-painted roof.
Chevrolet says the Blazer EV's design combines elements drawn from the Camaro and Corvette, while sticking true to the SUV model's last update issued back in 2018.
Inside, the Blazer EV is strikingly presented with a digitised 11.0-inch instrument panel, turbine-style round ventilation outlets, ambient lighting, (optional) red leather upholstery and a massive 17.7-inch central infotainment array.
RS and SS variants add a flat-bottom steering wheel to the mix alongside ventilated and heated front pews.
Safety equipment includes AEB with pedestrian detection, lane-keep assist, automated reverse parking and reverse AEB. Super Cruise handsfree driving is also available, similar to Tesla's AutoPilot.
While it's unlikely the Chevrolet Blazer EV will make it Down Under, we can report that our North American mates will pay what we consider a fair price for the all-electric SUV. The Blazer EV LT1 starts from $US44,995 ($A65,095), the LT2 from $US47,595 ($A69,410), the RS from $US51,995 ($A74,630) and the range-topping SS from $US65,995 ($A95,460).
"The 2024 Blazer EV sets a new tone for electric SUVs, with options and intuitive technologies that help position Chevy for leadership in one of the fastest-growing EV segments," said Chevrolet vice president Scott Bell.
"Along with the all-new Silverado EV and Equinox EV coming next year, we are making great strides in offering more choices for zero tailpipe emissions vehicles – choices that make switching to an EV easier than ever.
"The Blazer EV SS has the soul of a true sports car, and while it represents the pinnacle of performance for Chevy's EV line-up, all models offer stirring capabilities that will surprise and delight true performance devotees."
In addition to civilian variant, Chevrolet will also offer PPV (Police Patrol Vehicle) variants of the Blazer EV. Based on the range-topping SS variant, the PPV will be offered in rear- and all-wheel drive and feature the largest battery offered in the line-up.
Chevrolet says the police-specific model will feature a purpose-made interior, Brembo brakes and "ample room to accommodate emergency equipment and gear".
The Chevrolet Blazer EV will be produced at GM's Ramos Arizpe production facility in Mexico alongside ICE versions of the popular SUV.
---