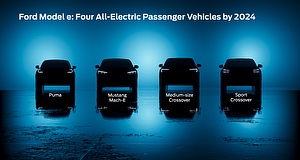 WITH its plan to produce an all-electric crossover in Europe already in well place, Ford has announced that it will introduce a second model based on the Volkswagen Group's MEB battery-electric platform.
This marks an expansion of Ford Motor Company and Volkswagen Group's e-mobility partnership. By producing another MEB-based battery-electric vehicle for the European market (although the company has not yet released any details about the upcoming model), the Blue Oval will double its planned MEB volume to 1.2 million units over the next six years.
The agreement was signed as part of a broader strategic alliance between the American and German firms, which encompasses e-mobility, commercial vehicles (such as the new Ford Ranger and Volkswagen Amarok utes, which will share a platform and several components), as well as autonomous driving. Designed as an open-vehicle platform, the MEB (Modular Electric Toolkit) allows car manufacturers to electrify their portfolio quickly and cost-effectively.
"Profitability and speed are crucial for finally achieving the breakthrough of e-mobility in Europe. We are tackling both together with Ford. Today's agreement will further accelerate the electrification of the companies," said Volkswagen Group board of management member for technology, Thomas Schmall.
GoAuto recently reported that by 2024, Ford would offer as many as three new electric passenger vehicles and four new electric commercial vehicles in Europe. The first Ford model that will be based on MEB will be an all-electric crossover that will be built at the Blue Oval's Electrification Centre in Cologne from 2023.
"Our strategic alliance with Volkswagen is an important element of Ford's commitment to offer an all-electric range of vehicles that are uniquely Ford and designed to meet the mobility needs of a modern Europe that is leading the fight against climate change," said Ford of Europe chairman Stuart Rowley.
For Volkswagen, the expansion of its collaboration with Ford will take it one step closer to making the supply of electric-vehicle platforms to other brands part of its core business. The scalable MEB platform, which can be utilised by various manufacturers, already provides the technology base for 10 electric models made by five brands; it was used to build about 300,000 units last year.
The VW Group's newly created business unit "Platform Business" is responsible for these partnerships. Volkswagen's future Scalable Systems Platform (SSP) will also be shared with partners; the use by various brands and manufacturers is factored into development right from the outset, the German company said.
For brand such as Ford, the MEB offers a high level of competitiveness while providing considerable freedom in design and model development. It covers a wide range of segments and vehicle types, from compact vehicles up to SUVs and vans. The most recent Volkswagen brand model based on the MEB is the ID. Buzz and its Cargo variant, both of which was launched in Hanover recently.
MEB units are mainly manufactured at the German locations of Volkswagen Group Components in Braunschweig, Kassel and Salzgitter.
---