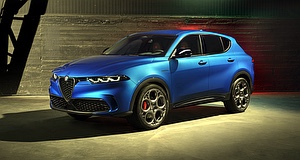 ALFA ROMEO has finally extended its new-car warranty in Australia to five years/ unlimited kilometres. The Italian marque's local importer announced that the extended new-car factory warranty would replace its dated three-year/150,000km program.
Additionally, the Turin-based firm has extended its roadside assistance package from three to five years, providing what it says is "added value and extra peace of mind" for customers. The five-year roadside assistance package is completely transferrable in the event that the vehicle is sold on.
The change to Alfa Romeo's warranty and roadside assistance coverage pertains to vehicles sold and registered from April 22. Forming part of the brand's Head & Heart Promise campaign, it is said to "underscore (Alfa Romeos') reliability and reputability".
"We are focused on fully strengthening our customer commitment in Australia. By introducing this competitive ownership proposition, we will ensure our valued customers benefit from added peace-of-mind, not only at the time of purchase, but for many years to come," said Alfa Romeo director of aftersales and customer experience, Stephen Lester.
"Our cars represent a uniquely emotional investment and we're making the experience more appealing than ever before with added value and increased reassurance."
Alfa Romeo joins premium European marques Audi, Jaguar Land Rover, Mercedes-Benz and Volvo in offering a five-year warranty and roadside package to its customers.
Currently, BMW is the only remaining premium brand to continue offering a three-year warranty within Australia.
Mainstream European brands including Citroen, Peugeot, Renault, Skoda and Volkswagen also offer five-year/unlimited kilometre warranties while Alpina, Aston Martin, Bentley, Ferrari, Fiat, Maserati, McLaren, Mini and Porsche offer three years, and Caterham, Lamborghini and Lotus only two years.
But Asian manufacturers lead the pack when it comes to warranty and aftersales support on the local new-vehicle retail market. Mitsubishi currently outshines the competition with a 10-year (but only 200,000km) warranty ahead of GWM/Haval, Kia, MG and SsangYong, each of which offers a seven-year / unlimited-kilometre deal.
Isuzu Ute offers a six-year/150,000km package, while Ford, Honda, Hyundai, Lexus, Mazda, Nissan, Subaru, Suzuki and Toyota offer a five-year/unlimited-kilometre guarantee. Jeep also offers a five-year warranty, but only up to 100,000km.
Manufacturers that offer a four-year warranty include Rolls-Royce (with unlimited kilometres) and Tesla (with a mere 80,000km), while mainstream importers with a three-year warranty offering include the recently defunct Chrysler (unlimited km), GMSV (100,000km) and Ram (100,000km).
---