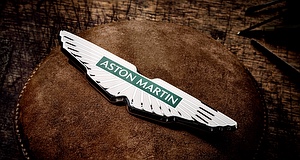 ASTON Martin has unveiled a renewed design for its iconic winged badge, alongside a new emotionally charged 'Intesity.Driven.' brand mantra.
The brand repositioning represents the first major update to the marque since the early noughts, and it's only the eighth time the luxury brand has changed its emblem in its 109-year history.
Aston Martin's reasoning for the rebrand comes as it heralds a new era of performance models, which will feature the new branding, with the upcoming DBX707 hyper-SUV, V12 Vantage, and flagship Valkyrie hybrid hypercar.
Dig deeper, though, and it appears the marque is also focusing on new audiences, following the recent announcement of its 'green' focus, as it plans to rollout a core model range of battery-electric and hybrid options by 2030.
"It builds on Aston Martin's growing appeal to a wider, affluent global audience strategically targeted by the brand, whilst underpinning its core values," the Aston Martin announcement detailed.
In keeping with the brand's luxury focus, and rather refreshing in the digital age, Aston Martin's new winged emblem was hand-enamelled by artisans in Birmingham's jewellery quarter.
Aston Martin designers worked with acclaimed British art director and designer, Peter Saville, who described the update as 'subtle but necessary'.
"The Aston Martin wings update is a classic example of the necessary evolution of logotypes of provenance," Mr Saville said.
"Subtle but necessary enhancements not only keep forms fresh, but allow for new technologies, situations and applications to be accommodated in the future.
"The process was one of clarifying and emphasising the key feature of the Aston Martin marque."
Alongside the announcement, Aston Martin released behind-the-scenes photography, and this stunning video, of the unique jewelling process at Vaughtons studio in Birmingham – a 203-year-old silversmiths firm famed for crafting the Football Association Cup and medals for the 1908 London Olympics.
The Aston Martin Aramco Cognizant F1TM Team premiered the new winged emblem on its livery at the French Grand Prix and, in celebrating the 100th anniversary of the car-marker's first Grand Prix entry, it raced with its original button logo on the nose of its cars.
The evocative 'Intensity. Driven.' mantra focuses on Aston Martin's performance heritage and ongoing commitment to an emotional driving experience, portrayed in this intoxicating video (volume up) – featuring Aston Martin's performance lineup.
"Building on our return to the pinnacle of motorsport in Formula One, the launch of Intensity. Driven. marks the next phase in our evolution of the Aston Martin brand, as we unleash its global potential and maximise our unique position at the cutting-edge of ultra-luxury and high performance," said Aston Martin's head of global marketing and communications, Renato Bisignani.
"Retaining the elegance and sophistication that our brand and products are revered for worldwide, this emotionally led creative direction dials up the bolder, edgier, and more intense characteristics that have always underscored Aston Martin.
"Whilst engaging our fiercely loyal customer base, we believe this new dimension will capitalise on the growing demand from a new generation of Aston Martin customers, with more than 60 per cent of our current sales new to the brand."
---