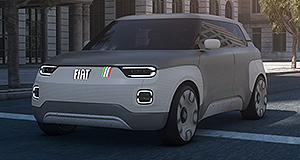 FIAT Chrysler Automobiles (FCA) says its new Concept Centoventi electric vehicle (EV), presented at this year's Geneva motor show, previews a new model of affordable electric mobility from the Italian marque.
The concept car takes on a modular form – a "blank canvas" in Fiat speak – with future customers able to personalise the look with four roof, bumper, wheel cover and colour scheme options installed at the dealership.
Buyers of the production vehicle will also be able to option interior configurations, roof design, infotainment systems and battery range, and over 114 Mopar accessories will be available from launch.
According to FCA, the modular platform allows for the car to be updated as new technology comes in, prolonging redundancy.
"This is one of the concept car's strong points: owners no longer have to wait for new special editions or facelifts, as they can change their cars any day they like," a statement from FCA reads.
"It is made even more revolutionary by the presence, at the launch, of 120 additional accessories that will generate a genuinely new business model, as well as a community of Fiat Concept Centoventi fans."
Inside the four-seat light car, the customisation options continue, with small holes that can allow for additional components to be plugged in with the brand's patented interlocking mounting system.
As standard, a smartphone can be used as the primary instrument display for functions like sat-nav, music and messaging, while a digital 20-inch Lingotto cluster can be optioned.
The door panels are also customisable, and can be fitted with storage pockets, bottle holders and speakers.
Sustainable materials are used on the seats, while the headrests and cushions can be replaced to change the design, and the front passenger seat can be substituted with a storage box or child seat if necessary.
Other forward-thinking features include a solar panel to keep the car cool while parked, and a 'messenger' mode turns the digital tailgate into an advertising billboard that can be rented out to advertisers.
As standard, the Concept Centoventi uses a factory-mounted battery with a range of 100km, though up to three additional batteries can be added to increase range up to 400km.
A sliding rail allows for installation or removal of batteries "particularly quick and easy", and a fifth battery can be mounted under the passenger seat to boost range to 500km.
The seat-mounted battery can be disconnected and put on charge directly in the owner's home, similar to an e-bike.
Despite not yet revealing timing or availability for any market, FCA has made big claims, calling the Concept Centoventi the least expensive battery-electric vehicle (BEV) on the market, as well as the easiest to clean, repair and service, and with the lowest risk of damage.
---