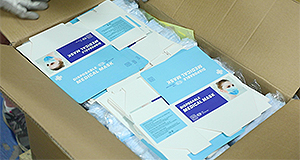 THE latest wave of medical supplies manufactured by Fiat Chrysler Automobiles (FCA) North America has been distributed to emergency operation centres in Illinois, Indiana, Michigan and Ohio – some of the worst hit areas by the COVID-19 virus.
The deliveries made late last week comprised of 550,000 disposable face masks which, under the social media hashtag #InItTogether, took the total number of donated facemasks to more than a million units, an impressive feat given production started less than three weeks ago.
Initially announced on March 23, FCA said at the time it hoped to produce more than a million units per month and donate them to police officers, emergency medical technicians, firefighters, hospital staff and health care clinics across the United States, Canada and Mexico.
According to FCA CEO Mike Manley, protecting first responders and health care workers has never been more important which is why FCA would be working through national, regional and city authorities to ensure the masks are directed to the people and facilities most in need.
"In addition to the support we are giving to increase the production of ventilators, we canvassed our contacts across the healthcare industry and it was very clear that there is an urgent and critical need for face masks," he said.
"We've marshalled the resources of the FCA Group to focus immediately on installing production capacity for making masks and supporting those most in need on the front line of this pandemic."
The project is the first multifaceted global program being developed by the auto giant which, like many other brands, is leveraging its manufacturing, supply chain and engineering know-how in the fight against the coronavirus.
On the other side of the world in Italy, recent talks with electromedical equipment specialist Siare Engineering International Group have proved fruitful with both companies signing on the dotted line to enter a partnership which will see FCA help produce 'electrovalves', the figurative heart of powered ventilators.
A team of FCA specialists analysed the supply flow and assembly process of the electrovalves and how to implement them at the group's facility in Cento.
The team also worked on solutions as to how best increase Siare's own production rate at its facilities in Bologna where increases were expected to be seen as of last week.
With the additional supply of electrovalves manufactured by FCA, Siare estimated that it would be able to reduce the total production time for its ventilators by between 30 and 50 per cent.
"The COVID-19 pandemic has brought greater urgency and need for this equipment, particularly in Italy which is one of the principal epicentres of the crisis in Europe," an FCA spokesperson said.
Back on US soil, the North American subsidiary has committed to helping provide more than a million meals to school-age children in the communities surrounding its principal manufacturing plants in Illinois, Indiana, Michigan and Ohio through local charities and non-profit organisations.
FCA says the program will eventually be expanded nationwide and beyond in Canada and Mexico, with Mr Manley saying "there has never been a more important moment to help children and their families with vital needs in our communities than during this time of great uncertainty".
Drawing on the experience and lessons learned by their Italian counterparts helping with the Siare venture, FCA North America is reportedly also in talks with local (US) medical supply manufacturers to see how it can lend any of its manufacturing, supply chain and or engineering expertise.
Away from the industrialism and humanitarian efforts, the Italian-American auto giant has opted to harness the power of social media against the spread of the coronavirus, launching not one but two social media campaigns designed to encourage people to stay home as much as possible.
On Good Friday, it was announced that every one of the major FCA group brands would launch their individual branded hashtags underneath the encompassing #StayAtHome tag.
Alfa Romeo will campaign with #MorePowerfulInPark, Chrysler with #PacificaCampOut, Dodge with #TheMuscleBehindUs, Fiat with #WeAreItaly, Jeep with #StayOffTheRoad and Ram Trucks with #WorkFORHome.
The aforementioned Group brands boast more than 47.6 million likes combined on their global Facebook pages, plus the almost 54,000 followers of the FCA global page, with all to post video and static posts over the coming weeks encouraging people to stay home and off the roads (basic self-imposed social isolation).
FCA chief marketing officer Olivier Francois said the goal is to "send messages of hope, solidarity and optimism" to everyone "doing their part to combat the spread of the virus".
For all those inspired to stay at home/ off the roads, the #MusicMonday Living Room Performance Series was launched yesterday (April 13) featuring X Ambassadors, Dermot Kennedy and Ari Lennox.
As the name suggests, the series is a collection of consecutive digital performances – 30 minutes long – livestreamed to FCA Group Facebook pages every Monday night of April.
Audiences have the chance to participate in an interactive Q and A session at the end of each acoustic performance with the series itself being "a way to support fans who are staying home, keeping themselves, their loved ones and their communities safe" according to FCA.
---