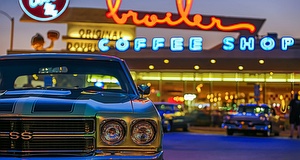 GENERAL MOTORS is rumoured to be readying its own factory-sanctioned restoration program, albeit one that is US and Euro-centric.
The program follows similar factory-backed restoration programs offered by other car-makers in a practice that now seems to be spreading to manufacturers both in Europe and the United States, including General Motors.
High value "continuation" cars, some worth over a million dollars, are becoming de rigueur as factories delve into re-birthing old cars by fixing early models from their back catalogue or building completely new versions of old models. Toyota's Kinto Factory heritage program is just one example.
It's a phenomenon driven by the booming popularity of classic cars and the desire of car-makers to rekindle emotive feelings for their brand.
News emerged last week of a recent filing with the United States Patent and Trademark Office (USPTO) pointing to GM's intentions through registering the name "GM Restorations".
GM is the second-largest global car-maker and has a vast back catalogue of highly desirable "classic" models.
Whether GM's intentions are to restore or re-create are unclear, but the news has classic car enthusiasts buzzing around the world.
Building new examples of old models would demand the recommissioning of redundant tooling, if it still exists, and hiring specialist tradespeople to complete the work as well as find suppliers for the myriad of components such a project would require.
The GM Restoration name filing in the US also included a list of old-school components such as carburettors, chokes, dipper switches and the like.
Put two and two together and you come up with General Motors at least weighing the possibility of launching its own factory restoration program.
GoAuto has not been able to get word either way as to GM's plans and car-makers regularly make filings with patent and trademark offices never to use the names registered.
However, with interest in classic GM cars and trucks running high, it seems to make sense they would do something like this.
In the US, plenty of Chevelle, Corvette, C10, Camaro, Impala and DeVille owners would jump at the chance to get factory-original parts and have their car restored through an official program.
However, a factory restoration program such as this might take years to bear fruit because they are complicated and costly.
On the other side of the coin is the benefit car-makers such as GM would get from rewarding people for collecting and cherishing classic models. Brand loyalty would see a boost to customer retention and potentially more sales for years into the future.
If GM does proceed with its restorations program, its understood Ford and Mopar would not be far behind.
In terms of the Australian high value classic car scene, the likelihood of factory resto' or a "continuation" Holden Monaro GTS327s rolling out of a factory under the Holden banner seems highly unlikely but you never know, stranger things have happened.
---