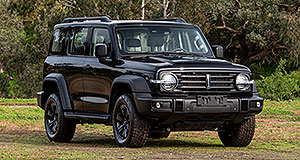 CHINESE car-maker GWM (previously Great Wall Motors) is seriously considering a line of off-road capable SUVs to fall under a new brand name as early as next year, in line with rapid expansion of its product range and dealer network.
In beefing up its image, GWM will launch a retro-styled SUV called Big Dog under the Haval brand in Australia early next year as a precursor to a proposed line of more heavy-duty models now under consideration for export by China.
However, a replacement is yet to emerge for the seven-seat Haval H9 off-roader that is nearing the end of its lifecycle.
Big Dog, a monocoque five-seater based on the Haval H6 platform, will give customers a styling option to the H6 and appeal to buyers wanting a bit more off-bitumen ability. GWM has not announced pricing or final specifications for this vehicle.
GWM said the Big Dog has the H6's monocoque body design with a 2738mm wheelbase and a length of 4620mm, compared with the Toyota RAV4 at 2690mm and 4600mm respectively.
Big Dog comes with a 1.5-litre or 2.0-litre engine in China, but likely to have the 155kW/325Nm 2.0-litre turbo-petrol unit here, together with a seven-speed dual-clutch transmission and all-wheel drive, loaded with electronic aids to improve its off-road prowess.
While the Big Dog is all but confirmed, GWM is now crunching the numbers in China on the Tank model range.
Tank, first shown late last year as a concept under the Wey Tank name, will become the third brand name under the GWM umbrella and sit alongside SUV-maker Haval and the utes of GWM.
Based on a shortened ladder-frame chassis of the GWM ute, the Tank is available in China across three models called 300, 700 and 800.
It has been through a comprehensive focus group clinic in Australia to gauge the opinions of potential buyers.
GWM head of marketing and communications Steve Maciver said the results of the panel were "pretty positive".
But he admits there's still a way to go to cement a case and believes that the Tank range – which are currently only available in left-hand drive although engineered to suit right-hand-drive markets – may be more than a year away.
Mr Maciver said one consideration was the position of the Tank 300 in the GWM-Haval line-up and potential issues with adding an additional model that may confuse buyers.
The Tank 300 and 700 are substantially bigger than the Big Dog. The 300 is 4760mm long and sits on a 2750mm wheelbase, compared with the Toyota Prado at 4995mm and 2790mm respectively.
GWM is on record as saying domestic demand in China for the 300 is affecting potential exports, with 5000 orders received within three hours when the SUV opened for pre-sale on April 19.
The company has now boosted production capacity but the waiting list is still six months. The 300 now commands a 50 per cent share of the Chinese off-road SUV segment.
Tank 300 has a 167kW/387Nm 2.0-litre turbo-petrol engine mated to a nine-speed ZF transmission driving through a part-time 4WD system that includes low-range, creep mode and three differential locks.
Australia may have the option of a 135kW/480Nm 2.4-litre turbo-diesel with the nine-speed auto.
The tougher Prado-size SUV known as the 700 is based on the 300 but with a larger body and a 260kW/500Nm 3.0-litre V6 turbo petrol.
GWM was asked if the 700 could fill the void created by the wind-down of the seven-seat Haval H9 but Mr Maciver said the 700 had five seats and, as yet, there was no replacement confirmed for the H9.
The China-only Tank 800 has a variant of the 700's engine with an electric motor in the transmission to create a hybrid that is claimed to deliver a combined 385kW and 750Nm.
With styling and luxury features moulded on the Rolls-Royce Cullinan, the Tank 800 was displayed at the Shanghai motor show in April this year but is an unlikely contender for the Australian market.
---