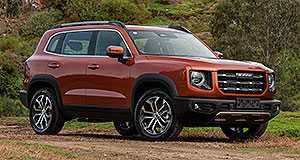 By NEIL DOWLING
CHINA'S biggest ute and SUV manufacturer, GWM, has flagged an ambitious plan to sell 18,000 units this year and become a top-10 car brand in Australia within four years.
The aspirations show that GWM plans to bite hard into the Australian market to displace fellow countryman MG and close in on rival Isuzu Ute, which has a similar ute and SUV line-up.
GWM – previously known as Great Wall Motors and now encompassing five brands including Haval – has this week unveiled a new product range and outlined a rapid model upgrade program designed to keep its vehicles fresh.
It has also outlined import plans for an electric vehicle brand called Ora and confirmed it is doing the numbers on the viability of two hardcore four-wheel drives that will be marketed under the Tank brand and launch as soon as later this year, with models including the colourfully named Big Dog.
Tank, which is now being number-crunched by GWM to confirm its viability, will give the company a macho-looking SUV in potentially three initial models – 300, 700 and 800 – that offers better off-road ability than the Haval H9.
Its belief that it will sell 18,000 units this year – higher than MG's sales in 2020 of 15,253 and just below Isuzu Ute's 22,111 – is remarkable given it comes on top of a modest 5235 sales last year.
But GWM said year-to-date May sales were 5490, already eclipsing the full 2020 year.
GWM has completed its second-generation ute series and plans now to expand the range with two additional variants – dual-cab Cannon 4×2 with automatic transmission and dual-cab Cannon 4×4 manual – from the third quarter of this year.
GWM head of marketing and communications Steve Maciver said: "That will give us an additional 150 sales a month, which will mean sales of close to 1000 utes a month."
It has launched its second-generation Haval H6 SUV and readying for supply of the H2-replacing Jolion SUV after launching its 300-unit LE (limited edition) teaser in April.
Australia also has its hand up for the Haval H6 Hybrid, now in production in Thailand.
Armed with a list of future products, and after a decade on the Australian market and a beginning sprinkled with problems from warranty issues, poor parts backup and questions about the quality and reliability of early Great Wall imports, the brand believes it now has the numbers on the wall to start sweeping in customers.
"Ultimately we want to be a high-volume, high-quality operation to build professional SUVs and pickups and be the most active automotive company," said Mr Maciver.
He said the company's "Fast Iterative Development Approach" would shorten launch-to-update product lifecycles to between six and 12 months compared with rival OEMs that have a cycle of 12-24 months.
"In terms of timing, we want to try and condense the time in between the new models," he said.
"Product is the key and so that will help drive up sales."
The listed Hong Kong company, the second biggest privately held automotive company in China after Geely, is rated the world's 14th biggest car company by capitalisation with $US51.54 billion, just less than Hyundai ($US54.03b) and above Ferrari ($US49.56b). It built 1.1 million vehicles in 2020.
"When you have a market capitalisation of that amount, it allows you to have pretty strong R&D investment," Mr Maciver said.
"And that's what the company is doing. We are over-investing in R&D to make sure that we can get the product to where we need it to be as quickly as possible."
Mr Maciver said GWM was developing electric vehicle technology at centres in Germany, Austria, Korea and India, doing design and styling at its centre in Japan and autonomous vehicle development in the US and India. These are additional to its Chinese operations.
GWM also has a supply chain that manufactures two million transmissions a year under the Hycet name, including those for the upcoming hybrids and 7.5 million seats a year under the Nobo Auto brand for GWM and outside car-makers, as well as batteries and electrical components from its SVolt subsidiary plus headlights and other lighting from MIND brand.
It manufactures in China, Russia and Thailand, assembles in five countries, has distribution at 600 locations in 51 countries and has wholly owned subsidiaries in Australia, New Zealand, Russia, Thailand and South Africa.
"The Thailand plant, which we bought last year, was the ex-GM plant that used to produce the Holden Colorado," he said.
"We've rebuilt that and retooled, and the Haval H6 Hybrid will be coming off of that plant for the South-East Asian markets."
Mr Maciver said Australia was a vital part of GWM's expansion plans.
"We want to understand how to operate in the Western market," he said.
"When we want to move into more mature and bigger markets such as Germany, the UK and the US – the lessons learnt in Australia, as a really competitive mature Western market, will stand the company in good stead."
---