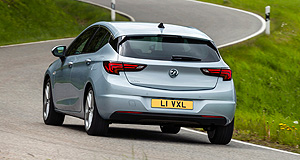 VAUXHALL has revealed its facelifted Astra small hatch in Europe, with changes including more frugal engines and a nine-speed automatic transmission that could herald a similar update to the local Holden line-up.
A Holden spokesperson told GoAuto it was still "too early" to comment on if the update will affect Australian-spec Astras, but the current hatch is sourced from Poland as the only body style available after the discontinuation of the sedan and wagon versions.

Headlining the changes to the overseas Astra is a revised line-up of petrol and diesel powertrains that is set to reduce fuel consumption and carbon dioxide emissions by as much as 19 per cent, according to Vauxhall.
Four turbocharged three-cylinder petrol engines will be on offer, kicking off with three 1.2-litre turbocharged units in either 81kW/195Nm, 96kW/225Nm or 107kW/225Nm tunes, with all mated exclusively to a six-speed manual transmission.
Meanwhile, the range-topping petrol motor will now be a 107kW/236Nm 1.4-litre unit paired to a continuously variable transmission (CVT) with seven stepped ratios.
All petrol engines meet Euro 6 standards, with the 1.2-litre engines returning between 5.2-5.5 litres per 100km and emitting 120-127 grams of CO2 per kilometre on the preliminary WLTP testing. Meanwhile, the 1.4-litre version records 5.7-5.9L/100km and 132-136g/km figures respectively.
For reference, the current Australia Astra sedan range opens with the 110kW/245Nm (240Nm for automatic transmission versions) 1.4-litre turbo-petrol four-cylinder engine in the R variant, while the high-spec R and RS-V are powered by a 147kW/300Nm 1.6-litre force-fed motor. All grades are available with a six-speed manual or torque-converter automatic transmission.
Fuel economy is pegged at 5.8L and 6.3-6.5L/100km in the 1.4- and 1.6-litre Astras respectively, while CO2 emissions are rated at 133-135 and 146-149g/km, albeit when tested on the older and less-stringent NEDC test procedure.
European Astra customers will also have the choice of a trio of turbo-diesel three-cylinder engines, all 1.5 litres in size and outputting either 77kW/260Nm, 90kW/300Nm or 90kW/285Nm.
While the first two oil-burning choices will come with a six-speed manual, the latter engine is paired to a newly developed nine-speed self-shifter.
Seeing as the current Australian Astra line-up is not offered with a diesel option, these engines will likely never make their way Down Under.
Aside from the powertrain updates, the new Astra is also fitted with a new engine compartment cover, an optimised underbody and a closable radiator grille that combine to make the model "the most aerodynamic car in its five-door-hatchback class", according to Vauxhall, with a drag coefficient of 0.26.
New shock absorbers have also been added to improve ride comfort.
Finally, small specification changes will see the new Astra offered with a faster-processing front camera that recognises pedestrians, an updated reversing camera, a new Multimedia Navi Pro infotainment system, wireless smartphone charging and a seven-speaker Bose sound system.
---